---
A brand new design
August 31, 2020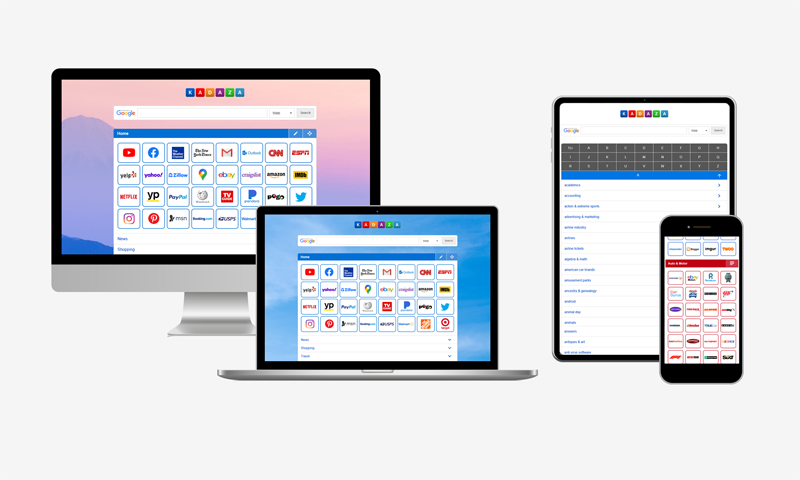 Today we are introducing a completely renewed version of Kadaza. Since its introduction in 2009, the Kadaza homepage has always been strikingly simple and easy to use. This has not changed. Above all, Kadaza is now even more user-friendly, faster and more complete than the Kadaza you have been used to. This new design is just a start. In the coming months, we will introduce new useful features to make online navigating and searching simpler and put the things you love at your fingertips. Follow us on Facebook, Twitter or Instagram to get the latest updates. Read more about our new design below.
What's new?
If you visited Kadaza today on a computer or laptop, you probably noticed immediately that something had changed. The menu on the left side has disappeared, but the new extended menu under the home dashboard makes it easier and faster to visit other categories. The titles are larger and different functionalities are now even easier to use. In addition, the "look & feel" has been renewed, colours and other elements have been refreshed.
Why a new version?
More and more users are visiting Kadaza via mobile phones and tablets; Kadaza should also be shown optimally on these devices. Instead of the current separate mobile version on kadaza.com/m, the new site will be displayed optimally and in the same way on each device. It doesn't matter whether you visit the site on a desktop, a phone or a tablet, Kadaza will always display optimally. Moreover, the Kadaza editors are now more flexible in building topic pages, and we can now show useful link tips and extra information within specific pages.
⇒ Let us know what you think of the changes: Contact us
---