---
All Shopping Home & Garden Family Food Life Holidays
---
June 22, 2022
4th of July 2022 Guide
It's time to break out the red, white, and blue on your table, in your backyard, or by wearing the colors we cherish here in the United States. The 4th of July, a.k.a. Independence Day, is a great time to connect with family, friends, or your whole community by grilling some goodies, enjoying fireworks, or getting out of dodge for a lovely long weekend away. Whatever you're planning to do, we've gathered some quick tips for a great 4th of July.
Kadaza is reader-supported. When you buy through links on our site, we may earn an affiliate commission.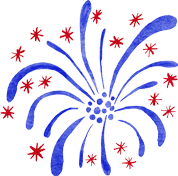 4th of July fireworks
---
You can't call it July 4th without a view of some fireworks. Those who are able should get out and see some excitement in person. But you don't have to leave your house to enjoy some beautiful displays.
Try this fun online game, and you are the one setting off the fireworks in front of the Statue of Liberty. It's a fun way to imagine you are the firework master and enjoy the show. Anyone can play, from younger kids to grandparents. So get your fingers limber and be ready to time those fireworks for a high score.

Get the best view of the fireworks live in cities across the United States. With Earthcam, you can watch the colorful explosions in N.Y.C., DC, San Francisco, LA, and everywhere else. So not only do you get to see a great view in each place, but you get multiple views in some cities. Earthcam is a terrific way to sit back and enjoy the artistry of fireworks displays while you stay cool and relaxed.
Barbecue grills and supplies
---
No matter what foods make you feel you're part of the American dream, giving it a smokey flavor on your grill will make it feel festive. Grill some corn, hot dogs, carne asada, teriyaki chicken wings, or pulled pork. Go exotic with grilled pineapple or pescatarian with some shrimp or salmon. You'll need a good barbecue grill or smoker to get you going. Check out the best brands at https://www.kadaza.com/grill-brands, then look at some other great shopping destinations to get your back patio smokin' with flavor.

The B.B.Q. Guys can direct you to every category of outdoor cooking equipment so you can compare your options. They break it down into gas, charcoal, pellet, kamado, and electric grills. To get more exotic, look at smokers, outdoor griddles, pizza ovens, and fryers. Or you can shop by brand. You'll find good deals on everything, from an inexpensive portable grill to the highest-end grills from exclusive manufacturers. You can even select grills made in the U.S.A. to support American businesses.

You can find anything you need on eBay, but it's an excellent destination if you are looking for an inexpensive charcoal grill that could serve a whole neighborhood. You can get small or large charcoal grills to set up for a big party that won't break the bank but will get the job done if you're holding a shindig. Search further, and you'll find deals on fancier grills too.

Search for your grill online on Amazon, and not only do you get fast free shipping if you have Amazon Prime, but you have a wide selection. Look at customer reviews to find details you care about, and you are more likely to find the right grill for your needs. With the great selection of sellers on the site, you can get extensive information that can help you make an informed decision.

Maybe you need a grill, or perhaps you just need the right accessories to make that new recipe. You can get all you need to grill at Home Depot. Their technical experts can help you figure out what to do to fix the barbecue you have, or they can outfit you with the latest and greatest rig. You can shop online and pick it up at your local store, saving you time and hassle.

Napoleon may be the brand for you if you aspire to barbecue greatness. They are an industry leader in sustainability and one of Canada's best-managed companies. You might have heard of Napoleon for their furnaces or fireplaces, but they also have a wide range of high-quality gas grills. Their website will help you locate one of the independent dealers who carry their products—you won't find them in the big chains.

Growing up in America, it's hard to avoid equating barbecue with a "Weber," which is how most of us experienced our first hot dogs and hamburgers. But that good old charcoal grill for your backyard is still going strong, and they now carry one of the most diverse selections of basic portable grills to big gas rigs and fancy smokers. They are known for solid quality, and even their budget picks get you grilling like a pro. Many backyard chefs trust Weber, so you can hardly go wrong with one of their many products for your outdoor cooking.
4th of July Shirts
---
What's more fun than wearing your American spirit on a T-shirt? You can find red, white, and blue clothing at many local stores like Target and Walmart. But if you want to get a bit more interesting, head online.

Redbubble has interesting and timely shirts to celebrate. For example, consider one that says "Happy Treason Day, Ungrateful Colonials" with the British Flag and a picture of the queen. Or you could wear patriotic gnomes, fighter jets, or funny political shirts for the 4th of July. You can even get a baby onesie with red, white, and blue ice cream cones or a face mask decorated with fireworks.
Omaha Steaks
---

It's undoubtedly meat season when you crack open the barbecue grill, so get some good meat to slap on the barbie from Omaha Steaks. You can get a package of steaks or mix it up with some chicken and pork to satisfy every taste bud. They even have fish and premium deserts. With guaranteed corn-fed quality and great deals on packages, you can save a bundle if you order your whole party of meat from Omaha Steaks.
4th of July party supplies
---
You don't have to go all out, but why not? Decorate and hand out party favors to make your party the one that goes down in family history.

Why have ordinary paper plates when you can get ones decorated with flag prints and holiday messages? You certainly need some color on your table, so look at tablecloths, bunting, stripey napkins, flag toothpicks, patriotically-colored meshes to cover the food, star-shaped straws, and more. If you need the proper containers for your buffet, they also have chafing dishes, steam pans, and fuel to keep it all warm. Give everyone headbands with patriotic pinwheel boppers on top, bubble wands, sparklers, glow sticks, or pom poms to make it extra fun. You can get a delivery of party décor, tableware, and favors or order online for pickup at your local store.

Decorating with goods from Oriental Trading can be a blast, with over-the-top ideas for any party. The 4th of July is no exception. They carry bunting, flag trash bin covers, balloons, and yard signs. Look up, and you'll find ceiling decorations, strings of pennants, sparkly fringe decorations, colorful hanging lanterns, patriotic piñatas, and so much more than you ever dreamed of. Your party could be the craziest festival around. If you want to be a part of the parade, look at their car- or float-decorating kits. Give the kids themed buckets to head to the beach or the sandbox. Or keep the little ones busy with themed crafts or outdoor toys. You can seriously liven your celebration with the unique and vast assortment at Oriental Trading.
4th of July Travel
---
If getting out of town on the holiday is your thing, you can travel near or far and enjoy the pleasures of the great outdoors. If you're looking to book lodging, transport, or entertainment at a discount, compare your options at https://www.kadaza.com/travel.

Make it simple to reserve your campsite or cabin with ReserveAmerica. Find your site at a state or private campground with this handy site. You can also read up on all things outdoors, search for the best locales for your preferred activities, or join their club for free camping.

There's nothing more American than a road trip. It's an excellent way to experience the country, but not all of us know where to start. Roadtrippers.com helps you plan your itinerary and find exciting stops along the way. Don't drive without some planning; this will make it easier and more fun.

For a unique camping experience, book on Hipcamp to find tent sites, RV camping, treehouses, cabins, or glamping. There's no reason not to explore some new ideas for outdoor appreciation, and you might just find something off the beaten track to beat the crowds at more well-known locales.
4th of July Sales
---
There's nothing like a holiday to give those among us who love shopping an excuse to enjoy browsing the stores. Independence Day has tons of sales events that help you gear up for summer and beyond. Of course, you can always shop the sales from your living room or patio at amazon.com or go to target.com to find out what's on sale there. If you want your apple pie, there's nothing more American than getting everything you need or want for a reasonable price at walmart.com. If you're looking for something big, you could find a deal on patio furniture, mattresses, electronics, or perhaps even a new vehicle. And really, isn't it relaxing to participate in one of America's favorite pastimes—shopping till you drop?
About The 4th of July
---
If you are like many of us, we have forgotten almost everything we learned in grade school about the history of the United States. So here's a little cheat sheet: on July 4th, also known as Independence Day, the Declaration of Independence was adopted. Hip-hip-hooray! If you want to know more, check out this in-depth article: https://www.rd.com/article/4th-of-july-history/.
---
---
---

Join us on Facebook