---
All Arts & Culture Travel Life
---
Adventure Travel
January 6, 2022
---

The Best Websites To Plan An Adventure Vacation
---
Adventure tourism is on the rise in a big way. This is partially thanks to an increase in younger travelers gravitating towards previously undiscovered destinations and adventure activities. But who says you need to be young to enjoy the trend? You can still take advantage of newly accessible and affordable adventure travel experiences, no matter your age or travel habits.
You'll likely notice one thing, though, as you begin your explorations and trip planning — you have a lot of options. More and more traditional travel providers and travel publications are latching on to the adventure travel trend, with expanded adventure-focused offerings and editorial. Meanwhile, niche providers and publications have popped up (or just become more mainstream) to add their own offerings to the mix. So where's a savvy traveler to start?
To help you find the best resources for planning and then enjoying your next adventure or active vacation, here are some of our favorite tools, providers and publications. The websites in this guide will make planning, prepping for, paying for and then experiencing your trip all the easier.
An easy way to start narrowing down on the best tools and resources for planning and enjoying your adventure travel? Simply decide what type of adventure travel or experience best fits your interests and lifestyle (as well as budget), and then pursue resources specifically designed for your needs. In this guide are seven types of adventure travel you might enjoy, as well as some of our favorite related resources.
Kadaza is reader-supported. When you buy through links on our site, we may earn an affiliate commission.
---
If you're the type of traveler to prefer a guided experience or tour, you may want to opt for booking your trip or adventure experience strictly through one of these providers (versus trying to plan out everything yourself). Doing so can be especially helpful if you're not much of a planner anyway, and you don't want the headache of coordinating all of your vacation activities. You may also prefer this option if you don't necessarily want a full adventure-themed vacation, and would rather have a single adventure experience as part of a larger family, romantic or other trip that's already well-planned.
However, these expedition and tour providers heavily differ in terms of what they offer. Here's what you need to know.

GetYourGuide is best suited for those who want a one-off adventure or active experience during a larger vacation. The booking platform offers a range of experiences, far beyond just adventure and active options. You can search for available experiences based on your destination and travel dates. For example, if you're traveling to Miami on the first weekend in March, you'll find a huge swathe of options pop up, but they're not all geared around adventure travel. For that, you'll need to narrow down the options based on interest categories, such as "adrenaline" or "water activities." From there, you can find more adventure and active travel-specific options, like a one-hour parasailing excursion over Biscayne Bay or a flyboarding experience.
We really like GetYourGuide's search functionality. In addition to searching for adrenaline-pumping activities based on your destination and trip dates, you can also search according to your budget, duration, native language and more.

If you travel even a little, you likely know Viator. This Tripadvisor-owned company similarly offers one-off adventure and active experiences that you can easily pop into the itinerary of a larger vacation or trip. It also allows you to search by destination and date and, then from there, you can search by other categories, such as "outdoor activities" and price. Viator also allows you to search for full day trips, in case you want something a little longer and more immersive.
Other unique search features allow you to look at tours only taking place at certain times of day, as well as experiences that include Covid-related safety precautions.

But what if you want a full experience that lasts the entire duration of your vacation? That's where GAdventures can help. This all-adventure, all-the-time tour provider offers a range of all-inclusive active and adventure travel vacations, so really all you have to do is show up and enjoy the ride.
And the coolest part? You won't believe how affordable some of these trips are! Think a 15-day Everest Base Camp Trek for less than $1,400 per person, or a Peru hiking adventure for less than $1,200 per person.

Okay, so you don't want a brief, one-hour experience like what you might book on Viator, but you don't want a full five-day excursion like what you might get with GAdventures, either. But you do want to have a local guide and a small group experience — or, even better, a private experience. For a tour provider that ticks all of these boxes and more, look to Urban Adventures.
This provider offers a range of full-day experiences, always led by locals, and always immersive. You can search for active tours based on location and style (small group or private). You won't find your "extreme" adventure tours here — most are focused on low-key activities like hiking or cycling — but if you want a private, immersive experience, Urban Adventures will deliver.

Let's say you take a look at all of the above, and all you really want is just a great deal on your adventure tour. If that sounds like you, Tourradar could be your best booking bet. This provider specializes in multi-day tours, but all at a discount. Think of it as your Hotwire for booking tours. You get your travel experience at a steal, from varying tour providers, but you only need to go to one website to find tours at up to 50% off.

The best traveling experience starts with the right travel luggage and accessories. For discounted suitcases and travel bags, check out Amazon Basics, or visit our overview of the best online luggage stores and the best luggage brands. Sponsored
---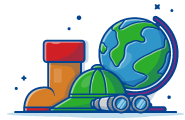 But what if your tastes lie more in the direction of all things luxury? If that's the case, look to one of these tour providers or publications for help planning your adventure trip.

We all know National Geographic, but did you know that National Geographic actually offers its own expeditions and tours? All of the experiences are incredibly luxurious and incredibly exclusive. You'll see and experience things you're not going to find on just any budget tour. Think cruising to Antarctica to check out the wildlife or zipping around the entire world on your own private jet. Of course, this type of exclusivity comes with a price. Does this go a little over your travel budget? You can still get lots of adventure travel inspiration from the Nat Geo travel section.

And if inspiration is more along the lines of what you're looking for anyway, and you can handle all the planning yourself, you might want to check out Travel & Leisure, too. This long-standing luxury travel magazine offers a bevy of articles on its website geared toward adventure travel, whether you need tips for planning an ice-climbing trip in Colorado or you're looking to find a great deal on a ski trip to Norway.

Much like National Geographic, Lonely Planet is a publication first (you may have purchased one of your favorite travel guidebooks from them), but the brand also offers its own tours. Because of Lonely Planet's reputation as a guidebook publisher, you know you can trust their recommendations, but it is worth noting that they don't offer the wide array of tours that you might find with other providers, especially if you're looking for adventure-specific tours.

Another magazine and online publication that provides tons of articles to help you plan your next adventure excursion, Outside still has a luxury, high-end slant (its recommendations certainly aren't for those on a strict budget), but all with the idea of promoting outdoor tourism and loads of adventure. In addition to finding articles on travel, you can also find info on the latest outdoor gear you might need, as well as issue-focused articles. Do note that some of Outside's articles are hidden behind a paywall.

Interested in backpacking only? Outside has a sister publication for that, too.

But back to the tours! If you want a refined, luxurious, premium tour experience geared toward education, look no further than Road Scholar. This provider is all about learning adventures and expeditions, with more than 5,000 options that allow you to explore a new destination while learning something new at the same time. You can search for tours that fit your desired activity level. For those who want a challenge, Road Scholar offers experiences like hiking the Inca Trail while you learn about Peruvian history and culture.

Exodus Travels offers similar high-end, multi-day adventure tours geared around your activity of choice (walking, cycling, winter sports, polar explorations, wildlife excursions, etc.). You can also find mixed-activity tours that combine things like walking and cycling on Ireland's Wild Atlantic Way, or walking and cycling through the vineyards of Chablis.
---
So you don't necessarily need a tour or booked experience? Already know what you love and how to plan your perfect trip? Well, then you might want to just use one of these handy tools to make your next adventure or active trip that much more enjoyable. Here are a few we love if you're particularly interested in climbing or hiking during your next vacay.

Beloved by hikers, AllTrails is an easy-to-use, invaluable app and website for anyone who hikes at any point. If you don't have this app on your phone and you plan to hike in the near future, download it now. The free version allows you to search for hiking trails in your area and then learn more about them based on pictures, reviews, difficulty ratings and more. If you sign up for an account, you can track your hiking times and speeds, as well as save favorite hikes. A paid subscription allows you to use the trail maps offline.

TrailLink is owned by the Rails-to-Trails Conservancy and it's not as extensive as AllTrails. Still, if you prefer rail trails — which are typically interconnected and pass through urban, well-populated areas, and are often more accessible than your traditional hiking trail — it's a great tool to have at your disposal. It offers both a web platform and an app, with a paid subscription that comes with offline maps.

Travel Guides
Find inspiration and ideas for your next trip with this handy overview of the best and most elaborate online travel guides.
---
Are you more likely to hit the road than the trail? Then you'll want to check out Roadtrippers.

If you're new to the world of road trips (but have always wanted to take one!) and are a little intimidated by all of the planning, Roadtrippers can help. Pick your starting and ending points and then find cool things to see and explore along your route. Roadtripper will help you build out a full map and then even give you turn-by-turn instructions once you're actually on the road.
---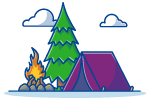 If you plan on camping for part of your outdoor adventure trip, you'll want to bookmark these websites.

HipCamp is like the Airbnb of camping. Land owners and businesses offer up their spots and sites for tent camping, RV camping or even glamping. You can search for sites in a range of destinations, and even look for certain amenities such as water features or pet friendliness.

If, though, you'd prefer to stay at a designated campground versus a campsite set up on someone's private property, you can check out KOA. KOA offers nearly 500 campgrounds all across the United States, and most are located nearby popular tourist attractions, such as national parks or beaches. In addition to offering tent sites and RV sites, KOA also offers cabins with kitchens and bathrooms, just in case you're not quite keen on roughing it in a tent.

If HipCamp is the Airbnb of camping, ReserveAmerica is the Priceline of camping. This reservation aggregator allows you to search for campsites in or around certain destinations based on arrival and departure dates and then allows you to book from an array of camping providers, both privately-owned campgrounds and public parks. In addition to the booking platform, ReserveAmerica also offers a bevy of guides and articles to help you plan the perfect camping trip.

If, however, you specifically want to stay at a public park, you might be able to narrow down your options by going directly to recreation.gov. The federal website allows you to search for camping and lodging at and around national forests, parks, historic sites, wildlife refuges and other recreational sites, but also allows you to book tickets and tours at national recreation sites that offer related amenities. You can likewise purchase permits and passes for activities like climbing and hunting.
The website is basically your one-stop shop for all things outdoor adventure at national sites.

The Dyrt allows you to book camping excursions, sure, but the website's value really lies more so in its extra perks and tools that come with a pro site membership. With a pro membership, you'll not only enjoy discounts at campgrounds around the country, but you'll also get access to off-line camping maps, a camping trip planner, maps of free public, back-country camping and more. If you're a serious camper who loves to go off the grid and maybe even backpack around some of the nation's best national scenery, you need The Dyrt.

If you're backpacking to your next campsite — or even just traveling with a backpack, which isn't that uncommon if you're enjoying some outdoor adventure — then you'll likely find BackpackingLight to be a useful website. The trusted platform features lots of informative articles on topics like Leave No Trace and combining cycling with hiking for a dual trip, but also offers online courses and podcasts, as well as community forums. You do need a paid membership in order to access all of the content.
---
Prefer your outdoor adventure travel with a side of snow? Then you should peruse the offerings from Switchback Travel.

Switchback Travel provides a range of guides and articles to help you make the most of your outdoor adventures and, while it does cover just about all kinds of adventure activities, it places a heavy emphasis on winter and snow sports. Find gear guides for snowboarding, skiing, winter hiking and more.
---

For the truly extreme travelers, though, there's Manawa. Manawa is similar to tour-booking options like Viator and GetYourGuide, but it comes with the added benefit of being fully geared toward outdoor activities. What really makes it stand out, though, is that it has an entire section of bookable tours all featuring extreme activities — one of the few websites to offer this.
Pick your destination and activity via the home page's search feature, or go straight to browsing the activities in the "Crazy" section for activities like crocodile diving and zorbing. However, even the tamer activities found throughout the rest of the site can be considered extreme for most travelers. You'll find available tours for heliskiing, free diving, glacier hiking and more.
---
But whatever type of adventure travel you prefer, whether you like guided tours or to go it on your own, whether you prefer high thrills or snow sports, luxury adventure travel or camping off-grid, you're going to likely need some gear. Here's where to look for the best gear, as well as gear guides.

Based on the name, you might think that Clever Hiker is only for hiking tips and tricks, and while this blog does offer a range of hiking-related advice, it's particularly focused on gear guides — and, yes, while you could use all of the gear covered in your hiking adventures, you'll find that this gear is useful in a range of situations. From tents to backpacks, hiking boots to winter outdoor apparel, you can find reviews and recommendations for it all.

Anyone who calls themself an outdoor enthusiast has probably purchased a lot of gear from REI, but did you know that REI also offers a plethora of outdoor guides to help you make the most of each piece of gear that you buy?
Take the brand's handy gear checklist, for example. This printable checklist helps you keep track of every single item you'd need when heading out into the great outdoors. Check out the brand's full range of expert guides, on topics including camping, hiking, cycling, climbing, paddling, snow sports and more.

Much like REI, Backcountry is a brand that offers its own outdoor-centric clothing and gear, but it also provides a large amount of content to help its customer base enjoy their outdoor adventures to the fullest. As you shop around the full line of outdoor gear and apparel, you can also check out helpful articles on topics like ski season essentials.

The best traveling experience starts with the right travel luggage and accessories. For discounted suitcases and travel bags, check out Amazon Basics, or visit our overview of the best online luggage stores and the best luggage brands. Sponsored
---
You've got your gear. You have an itinerary. What's left? Your basics, of course! You can't forget to book your accommodations (if you're not camping), as well as your actual travel.
First up? Finding the perfect place to stay.

You might want to choose an option like Hip Camp if you plan on booking a glamping or camping site, but Airbnb does offer those options. Still, the site is generally better for booking actual home stays or cabins, versus camping arrangements.
The widely-used platform comes with a great level of customer service and has a huge array of options in just about every destination. It's also a good pick if you're traveling with a group of friends and want to split the cost of staying in a home share, to save a bit of your travel budget.

If a hotel isn't completely out of consideration, though, you might want to consider looking toward Booking.com. You'll find that you can search for not only hotel rooms in your destination of choice, but also home rentals. You can also book your accommodations along with a flight, for a money-saving bundle.

In some destinations, you might find that your most budget-friendly accommodation option is a hostel. Our favorite hostel-booking platform is Hostelworld, where you can find approximately 36,000 hostels in more than 170 countries and, in addition to booking a stay, you can also book experiences, thanks to a newly added feature on the booking platform. As for your stay, just search by destination and stay dates, and find options sorted by price, rating and distance. You can easily book your stay with no booking fee and an instant confirmation.
But you do actually have to get to your destination first — and for that we have a few tool recommendations.

If you're any traveler at all, if you fly at all, you can use SkyScanner. This fantastic website allows you to search for the cheapest flights to your destination, but it also offers an amazing "everywhere" search function that allows you to look for the cheapest flights from your home airport to any destination in the world. This feature is ideal for those who like to spontaneously travel to new destinations on a budget.

If you're more likely to travel by bus or train than plane, Wanderu works in a similar way, finding you the most affordable bus and train tickets between your desired locations. Whether you want to take a bus cross-country or buy train tickets in a foreign locale, Wanderu makes the process simple, especially for those who aren't as familiar with this mode of travel.

Skiplagged claims that it can find the airfare that airlines don't want you to see, as it hunts down the loopholes that allow you to travel on the cheap. For example, it might be cheaper for you to buy a ticket from Atlanta to Dallas with a layover in Orlando, than it might be for you to buy a ticket from Atlanta to Orlando only. So you buy the former option and then just never go to Dallas! Intrigued? We thought so. Before you book your next flight, see what Skiplagged might be able to offer you.

Booking a flight
When searching for an airline ticket online, you can do so through an online travel agency (OTA), a flight search engine, or directly through an airline's website. For each option we have described the advantages and disadvantages here.