---
All Life Fashion Sports Shopping
---
October 10, 2022
Buying Antique Furniture Online
---
How would you like to find good antique, vintage, and used furniture without cruising estate sales, antique stores, or flea markets? Numerous online sites have everything from vetted designer pieces to more recent pre-owned articles. You can search by all different keywords, rummaging from the comfort of your own home. In addition, many sites have experts who vet the quality and condition of items, so you can have more confidence in buying expensive pieces unseen. Let's see what furniture, décor, and lighting you can find to brighten your home.
Kadaza is reader-supported. When you buy through links on our site, we may earn an affiliate commission.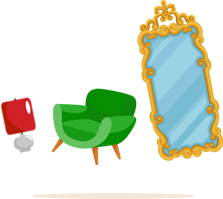 The collections at 1stDibs include iconic designs from American and European designers. You can get the original items or recently manufactured versions of some of the classics like the Egg Chain or Eames Lounge Chair, but for the well-informed, you will likely find many of the gems you have long coveted in both furniture and décor.


Everything But the House is a great site to find estate sale gems for a song. The site checks everything for quality and lists the condition. Plus, all the auctions start at just $1, and you will find some lovely wooden pieces here. Oak or maple desks, dressers, tables, and more. Some are from the 1800s when people knew how to build things to last. However, shipping can be expensive, so your best bet is to pick up at one of their Ohio locations if you can.

Buy from a nicely curated assortment of vintage pieces on Chairish, where you can get picks from multiple sellers. We especially love the wooden chairs shaped like hands, the mushroom-shaped coffee tables, and the velvet mid-century modern swivel chairs.

Get some fun shopping for vintage furniture on Pamono. The styles include many colorful pieces, like a red and blue lounge chair by Gerrit Thomas Rietveld for Cassina, an orange Le Corbusier lounge chair, or a pink and grey cabinet with sliding doors from the 1960s.

Urban Outfitters has a renewal line to bring recycled items—including some furniture and home textiles—to you rather than adding to the waste. Or you can look at their vintage-inspired modern furniture at very affordable prices.

As with all online or in-person transactions, the buyer must beware. Read listings carefully, look at the pictures, and check the site policies. Some of the furniture of your dreams can be a considerable investment, so you need to be careful to spend your money wisely. Also, check on shipping terms and costs. Because these are bulkier items, most must be trucked and require thorough crating. Local pickup is an option if you happen to be near the seller, but it still requires preparation.

What about the floor, you say? We have you covered. Revival Rugs can get you professionally cleaned vintage rugs from around the world. They curate the selection, but natural wear and flaws are part of the fun of these handmade rugs. Shop classic vintage Turkish or Moroccan Berber rugs and find the unique treasure for your space.

On AptDeco, you can shop by style, brand, or item of furniture. These used pieces are primarily from current retailers, but you will get an excellent price because they are used. They carry everything from Herman Miller to Ikea. You can choose your region, with a choice of either the Northeast or SF Bay Area, in case you'd like to pick up. Items can also be shipped.

Etsy is always a great place to shop since you are supporting small enterprises around the globe. You can find lots of vintage furniture. We love the natural burl wood free-edge coffee table, ornate Moroccan kitchen cabinet, and the restored Edwardian settee. Check the sellers to make sure your items are shippable for a reasonable price. You might want something special to cross the ocean, but it will cost you.

Search the vintage page at One Kings Lane to find treasures like a giltwood chest, an antique Japanese Hibachi table, a birdseye maple chest of drawers, an Indo-Portuguese powder blue cabinet, and so much more. The antique sellers here have unusual collections and varied tastes. You can get many unique pieces by browsing here.

You can find almost anything on eBay, and used furniture is no exception. With sellers around the country and the world, you may want to search locally for larger pieces. But many décor or rug items could ship to you. You can also find lots of vintage-inspired furniture at reasonable prices here.

You may think of Sotheby's for their high-end auctions or real estate business, but you can also find fine used furniture here. Check out private collections and showrooms featuring some great furniture and décor. Sotheby's reputation means you'll be getting a premium selection to choose from.

Catawiki is a great place to find vintage treasures like a retro radio, a crystal chandelier, a hand-knotted Berber rug, or a sunburst wall mirror. Their auctions cover 60 countries, 17 languages, and sellers from all over. Their experts virtually inspect the items, so there is some oversight, but you can only know what a gem you've got when it arrives at your door. Happy bidding!

If auction houses make you want to browse, you can do it without leaving your couch on Invaluable.com. They feature items from auction houses around the world, and you can see about getting a Danish teak sideboard, an antique vacuum cleaner, a revolving kitchen pantry, a Victorian steel birdcage, or that Eames lounge chair you've been wanting.

Ruby Lane shows you items from respected dealers worldwide, so you know you can find valuable items. To start, you'll find a 19th-century Louis XVI wingback chair, a French mahogany desk, carved African stools, art deco cabinets, and much more.

For "antique" furniture in anyone's budget, Amazon could be your place. They have loads of affordable styles of newly made furniture, so you can get the style you want for your money. Get the look without the cost of authentic antiques, and get it shipped easily and conveniently.
---
---
Join us on Facebook