---
All Shopping Home & Garden Family Food Life Holidays
---
Christmas 2022 Guide
November 5, 2021 (Last updated: December 5, 2022)
---

Christmas 2022: The Ultimate Guide
Christmas comes but once a year, bringing cheer to billions of people around the world. For many, it's a religious holiday to remember the humble and miraculous birth of Jesus Christ in a manger on a cold, evening night long ago in Bethlehem. For others, it's a time to come together with family and friends in the deep of winter amongst glistening lights, delicious treats, and bountiful gifts.
Although Christmas can be magical without all the trimmings if you spend it with those you love, it certainly is a time to celebrate with good food, gifts, and festive decorations to set the perfect holiday spirit.
Kadaza is reader-supported. When you buy through links on our site, we may earn an affiliate commission.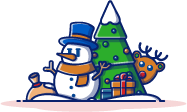 Christmas is a wonderful time of year to get creative, whether that's with a new Christmas cookie recipe, a glittering DIY wreath or a fun and festive craft for the kids or grandkids. Sweeten the season and deck the halls with ideas from the following inspiring hand-selected websites.

Whether you're hoping to get inspiration for gift-giving, great DIY crafts, or home decor, Country Living is a wonderful place to start. Their tailored gift guides cover a myriad of interests for everyone from the butterfly-obsessed friend to travel fanatics to people who are always cold. They're sure to have people thinking what a thoughtful gift-giver you are.
Besides their emphasis on gift guides, they also have thoughtfully written guides covering a broad range of Christmas topics from Christmas party games to crafts for kids and the most magical Christmas towns across the United States to visit during the holiday season.

For fresh, Instagram-worthy Christmas decorating ideas, check out Elle Decor for beautiful ideas like non-traditional Christmas trees, porch decorations, or even a guide on scented candles to set the perfect cozy holiday mood.

Lose yourself for an hour or two, dreaming of the perfect Christmas via Pinterest's inspiring collection of fun ideas for celebrating at home and classic ideas for gifts, crafts, and recipes. Pinterest has a board for everything Christmas-related, from gift ideas to festive hot cocoa inspiration to ugly Christmas sweaters for that annual holiday party.

Since 1996, Northpole.com has aimed to make the holidays magical with its fun activities. Although it's a bit old-school, the website is easy to navigate with lots of festive activities for kiddos, like sending an email to Santa at the North Pole, tracking Santa on his Christmas journey, printing a personalized Christmas story, and ideas for baking, gifts, and ornaments. They also offer a kid-friendly app with twenty Christmas stories with audio about Santa Claus, the elves, and the reindeer at the North Pole.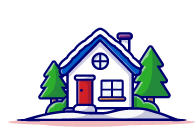 On Christmas morn, families near and far gather under their Christmas trees to exchange gifts. Few symbols are more important to the modern American Christmas, so it makes sense that the debate of whether an artificial or real Christmas tree is better is so passionate.
Artificial or Real Tree?
For many, nothing can beat having a real Christmas tree for Christmas. Their evergreen fragrance brings people back to warm and cheerful Christmases past, and the trips to the tree lot to pick the perfect tree is a cherished family annual event.
For others, they prefer the convenience and low maintenance aspects of an artificial tree. It's easy to find an artificial tree that is shaped exactly how you like, perhaps pre-lit, and whose needles will never drop onto the carpet year-after-year.
Choosing a Real Tree
If you're looking for a real tree, make sure to view your tree from all angles to make sure it's full and to your liking. Look for deep green colored trees, whose needles stay on the branch and whose trunk has a slight stickiness to it.
If you're not sure which variety you might prefer, check out this helpful article detailing the most common evergreen tree varieties native to the United States.
---
Home Depot, Lowe's, and Bed Bath and Beyond have a huge selection of affordable artificial Christmas trees, and most Home Depot and Lowe's locations do have real Christmas tree lots to hand-select your natural Christmas tree if you prefer.
However, if you're looking for something specific, check out our following list of quality online providers of real and artificial Christmas trees.

For fresh evergreen trees cut and delivered straight to your home, check out Fast Growing Trees. Although they only offer smaller trees under six feet tall, they do guarantee that your tree will be extremely fresh with a classic shape, soft needles, and aromatic scent that will take you back to memories of Christmas mornings.

If you're looking for a realistic artificial tree that reminds you of the one you used to pick up at the lot as a kid, Balsam Hill offers the widest selection of high-quality, realistic Christmas trees on the market. Crafted with care to ensure years of enjoyment, the trees are based on many different Christmas tree varieties from the Classic Blue Spruce to the pencil-thin Sonoma Slim tree, each with a different feel and personality.

King of Christmas sells an abundant selection of handmade, artificial trees with a two-year warranty and free US shipping. If you like flocked trees with frosted, snow-crusted white branches, you should certainly check them out. They also have a wide range of green trees and unlit and lit trees, up to 15' tall!

Mimicking the complex growth patterns of a freshly cut Noble Fir, Hammacher Schlemmer's artificial trees are made to the highest quality standards and require minimal shaping. From tabletop trees to majestic 12-footers, you can find trees that are unlit or lit, slimmer or fuller, and various branch types starting under $200.

L

ooking for something fun and educational to do with the kids? Check out Google's

Santa Tracker for educational and interactive activities for every age. Learn to code with Santa's Elves, discover holidays around the world, and track Santa on his big day. Or read children's stories, play games, and watch playfully animated Christmas videos.

Decorating is a cherished Christmas tradition that many families look forward to each year. Turn on your favorite Christmas tunes, make yourself some hot cocoa and deck your halls with decorations to get your home into the Christmas spirit.
Although your Christmas decorations will undoubtedly include heirlooms and old family favorites, it's fun to add new elements to your decor every year. Major retailers like Target, Walmart and Amazon have Christmas decorations of all sorts, whether you're looking for festive garlands or themed pillows. But if you're looking for something a bit more special this year, check out the following websites for Christmas decorations guaranteed to make the holidays merry and bright.

Specializing in Christmas decorations and with the most extensive inventory on this list, Christmas Central has quality items that you might not find on other websites, including artificial snow, bells, Christmas villages, nativity scenes, figurines, snow globes, stocking holders, and trains. Christmas Central carries everything you might need to transform your home into a holiday wonderland.

Besides selling a beautifully rich assortment of artisan faux Christmas trees, Balsam Hill also offers a lovely selection of realistic-looking wreaths and garlands. In addition, they provide a nice but small selection of curated Christmas decorations, like nativity sets, tabletop trees, and decorative accents, and all the trimmings for the tree, including ornaments, ribbons, lights, and skirts.

For traditional or whimsical Christmas decorations like playful gnome pillows or a comical wine bag shaped like Santa's pants, check out Pottery Barn's extensive range of decorations including wall decor, string lights, lit decor, pillows, and throws.

For high-quality products and exclusive, timeless designs, check out Crate & Barrel for a generous selection of faux trees and evergreens, nutcrackers imported from Germany, and cozy throws. They also have a beautiful selection of centerpieces, mantel decorations, ornaments, stockings, candles, and Christmas bedding to help you celebrate the season.

The kitchenware and home furnishings company Williams Sonoma offers all sorts of Christmas decorations, including Christmas trees, wreaths, garlands, festive scented candles, pillar candles in red, white and green, kitchen towels, Christmas tree skirts, nutcrackers, and candle holders. Besides providing elegant Christmas decor, they also sell handy storage containers for your Christmas decorations.

Home and decor giant West Elm takes a maximalist approach to Christmas decor. Their philosophy is "When it comes to getting festive, anywhere and everywhere is fair game." Deck the halls...and your mantels, doorways, stair banisters, and bookshelves with an impressive variety of wreaths, garlands, lights and candles, faux trees, pillows, throws, decor, doormats, and figurines.
For further inspiration, check out their Holiday Lookbook for curated mood boards to inspire your Christmas decor theme for 2022.

Well-loved by interior designers, Chairish is known for offering rare vintage, antique and contemporary items. For vintage Christmas decorations, check out Chairish for a huge assortment of serving trays, nutcrackers, decor, dinnerware, Christmas ornaments, and brass angel candle holders to remind you of Christmas past.

If you're looking to create a rustic holiday aesthetic, Sundance sells unique hand-painted, sustainably sourced iron trees, wreaths, garlands, and Christmas ornaments. Although these intricate, cut-metal decor items are their specialty, they also sell charming mini knit sweater and hat ornaments, doormats, and cozy throws to snuggle under on a cold winter's night.

Amazon
carries a large selection of wonderful Christmas decorations, jewelry, clothing and more. Also browse the Holiday Gift Guides for fashion gifts, toys, electronics and more.
Ad

Decorating the Christmas tree is a beautiful time to reminisce, marvel in the magic of Christmas, and celebrate your family. Collected through the years, ornaments tell the story of your family, its values and remind you of cherished milestones and happy moments like births and marriages. Besides the shiny and colorful ornaments, no one can deny the magic of sitting beside a Christmas tree trimmed with sparkling lights and garlands.
If you're looking to add more ornaments, lights, garlands, tree picks, tree toppers or skirts to your Christmas tree decor, Target, Walmart, and Amazon have a wide selection of lovely additions. However, if you're looking for websites with larger or hand-curated collections, check out the following websites to help you trim your tree.

Selling over two million Christmas ornaments a year, Bronner's Christmas Wonderland is one of the world's largest Christmas stores. Although they originally had their beginnings in glass ornaments, they sell all types of ornaments that reflect and celebrate almost any interest or hobby. Whether you're looking for faith-based nativity ornaments or an ornament to express your love for ketchup, Bronner's should have it!

If you love a colorful tree full of personality, check out Terrain for their huge box sets of glass bulb ornaments in every color of the rainbow. They also offer brightly colored vintage glass ornaments in themes like food and birds and an adorable collection of sweater-wearing felt foxes and mice ornaments.

With everything you need to trim the tree, Dillard's sells quality ornaments, picks, garlands, ribbons and tree skirts. Their ornaments include crystal, hand-painted glass, beaded and porcelain ornaments in classic themes like Santa and his reindeer or more unique subjects like sea turtles, helicopters and ice cream.
If you're looking for tree picks that clip to your tree branches and add more sparkle and color to your tree, Dillard's notably offers an exclusive line of picks featuring magnolias, poinsettias, bejeweled branches, and birds.

Based in New York City's East Village, John Derian has a beautiful selection of colorful blown glass ornaments in totally non-traditional themes that will have Grandma looking twice. Some of the glass ornaments include devils, snarling lions, mushrooms of all shapes and sizes, astronauts and beetles...and some fruit for tradition's sake. If you prefer, they also offer some sewn, beaded, and embroidered ornaments, all referring to vintage ornament craft styles but their subject-matter is always fresh and fun.

In the 1980s, tableware company Lenox first released their collections of Christmas ornaments. If you're looking for a special personalized ornament to commemorate an important event this year, like a birth or a marriage, check out Lenox's charming keepsake ornaments. They also offer ornament sets and annually-released collectible ornaments, featuring popular characters like Snoopy or the Grinch.

For meme and emoji-inspired ornaments certain to get a chuckle or a second glance, check out Burke Decor for a fun selection of ornaments like Tiger King, a suggestive peach, and Jeff Koons-inspired balloon animals.

New York-based manufacturer of ceramics and retailer of hand-painted furniture and home décor MacKenzie-Childs offers glass and ceramic ornaments in exciting, colorful, and lively patterns and subjects. Shop handcrafted, mouth-blown glass ornaments hand-painted in Eastern Europe by some of the world's most talented glass artisans. The subjects are playful and charming, like Santa in a zeppelin or polka-dotted pigs.

For traditional Christmas decor with rich details and "extraordinary delights," look no further than Harrods, the London-based department store with 150 years of history. With ornaments, Christmas stockings and wreaths, their decorations evoke an enchanted European aesthetic, worthy of old English manors and The Nutcracker. Check out their curated ornament themes like "Medieval Mayhem'' and "Midnight Circus" to help you create the perfect themed Christmas tree this year.

During the month of December, track Santa Claus's progress via the Norad Tracks Santa website, sponsored by the North American Aerospace Defense Command. You can also play fun Christmas games, listen to Christmas music and much more.
On Christmas Eve, hang the stockings by the fireplace and make sure to set out milk and cookies because Santa Claus is coming to town. A long-standing Christmas tradition, Christmas stockings full of goodies bring smiles to good little boys and girls (of all ages).
For a broad selection of Christmas stockings in traditional and contemporary designs, check out popular websites like Pottery Barn, Etsy, Target, Walmart, and Amazon. Or if you're looking for more unique options to stay with your family for generations, check out our curated list below.

Creating quality children's products, Maisonette offers a truly charming selection of stockings for children. With pom-poms, felted animals like unicorns, and monogrammable options, these original and high-quality stockings are worthy of being passed down and cherished year after year.

Perfect for hiding a special gift like jewelry or a gift card surprise within, Bauble Stockings are hand-stitched in Haiti for fair trade by single moms. These six-inch long stockings come in a wide variety of festive designs.

If you're crafty and are looking to create your own personalized stockings that will be the next generation's heirlooms, look no further than Merry Stockings. They have a wide selection of festive stocking kits that can be assembled, embellished with sequins and embroidery, and personalized with your family members' names.

If you are looking for artisan hand-embellished stockings with intricate beading, sequins, and gilded embroidery, check out Front Gate's exquisite selection of high-quality traditional and timeless stockings. Many of the stockings have coordinating hand-made Christmas tree skirts available for sale to perfect the look.

For vintage Christmas stockings with a global feel, check out Chairish for a wide selection of stockings sewn from ethnic fabrics, like Turkish kilims to vintage embroidered Suzanis to African Kuba cloth.

Want to bring some North Pole magic to a special child in your life this year? Portable North Pole sends children a personalized video message from Santa Claus for free. If you need a little help incentivizing your child to make the "nice list" this year, there's also a paid annual plan that enables you to choose from over 80 personalized messages throughout the year to encourage good behavior!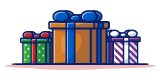 Christmas is the giving season. It's a time to give, receive, and be merry. Websites like Target, eBay, Walmart, and Amazon have a vast array of gifts that you can give with a joyful heart and make holiday shopping a snap. And if your loved one is into anything tech-related, BestBuy is a great place to go for gifts.
For a hand-selected list of websites featuring carefully curated gifts for the ones you love, check out our Christmas Gifts overview of top Christmas shopping websites or check out our tips below.
Unique Gifts
Nothing says "I love you" and "I get you" like a truly unique gift tailored to your loved one's interests. Whether it's a silly dinosaur garden sculpture or a wine holder for their bathtub, some gifts just scream someone's name and are sure to bring a wonderful sparkle to someone's face.

For unique gifts designed by innovative creators, check out Uncommon Goods for items like unique kitchen tools, quirky socks, fun coffee table books, and other surprisingly delightful well-designed products. Check out their curated Stocking Stuffers list for small surprising gifts, their Holiday Gift Guides if you need some gift-giving inspiration, or their Gift Finder tool where you enter in the age and interests of the person you're shopping for and get a great list of recommendations.
Beauty Gifts
Must-have beauty gifts, like fragrances, cosmetics and skincare, top many people's Christmas wish lists every year. For beauty products hand-picked for the holidays, be sure to also check out our selection of top beauty stores.

With holiday gift sets of brushes, skincare, face masks, and cosmetics to please the beauty-obsessed person in your life, Sephora is a great place to start your Christmas shopping. They even offer a Holiday Vibes beauty advent calendar where you can open one product every day of December as you count down the days until Christmas.
Food Gifts
When in doubt, tasty food gift baskets and candies are sure to sweeten the season for the ones you love. For the best selection of websites for food gifts, check out our selection of food gift websites or check out our tips below.

When in doubt, give the gift of chocolate! Known for their quality Belgian chocolates, Godiva sells boxes of delicious truffles, cherry cordials, and hot cocoa mixes in a variety of sizes, all in festive packaging. They also have a beautiful advent calendar with a different tasty chocolate every day as you countdown towards Christmas Eve.

If you're looking for crowd-pleasing baskets for all sorts of tastes, check out Harry and David for gift baskets that are perfect for shipping to loved ones, colleagues, or clients. In charming Christmas-themed packaging, their baskets are filled with delicious treats like pears and fruit, baked goods, chocolates, cheeses, sweets, or wine. Whether you have $30 or $130 to spend, you're certain to find a basket to suit someone's particular tastes.
Book Gifts
There's nothing like cuddling up under a blanket during those lazy days between Christmas and New Year's and reading a new book you got for Christmas. Check out our overview of top bookstores where you're sure to find the perfect book to give this year.

For the bookworm in your life, check out Barnes and Noble's to find the perfect trending books for children and adults no matter what their interests or preferred literary genres are. More than just books, Barnes and Noble also sells a wide range of toys, games, music, and movies. It's possible to find the perfect Christmas gifts for family, significant others, friends, co-workers, whether you're looking for Marvel collectibles or the perfect stocking stuffers from the world of Harry Potter.
Christmas Flowers
Festive and cheery, Christmas flowers make a lovely hostess gift or a gift for someone special. Visit our Flowers & Plants page for a curated overview of top websites for flowers and plants.

If you're looking to gift a beautiful Christmas bouquet in vibrant reds and evergreens with wisps of silver and gold, check out FTD's offering of exclusive Christmas flowers and arrangements. Some of their most popular Christmas flowers include poinsettias, candy cane Peruvian lilies, festive wreaths, and Christmas tulips.
Jewelry Gifts
Add some sparkle to their Christmas with fine jewelry. Check out our hand-picked selection of best jewelry websites.

Known for their diamonds and 100 years of service, Zales provides classic gifts like diamond stud earrings or personalized jewelry that feature birthstones or spell out your loved one's name. They also offer gifts for him, including watches, cufflinks, and chains.
If you're struggling to find the right gift, check out their helpful gift quiz to help you narrow down your options quickly to find the perfect gift or browse their shopping categories arranged by price whether you're looking to spend under $100 or over $500. If you're looking for something sparkly to fill a stocking, they offer a collection of sterling silver jewelry for $30 each.

Founded in 1916, Kay Jewelers sells a wide range of timeless fine jewelry gifts for him and her, as well as personalized jewelry for kids and adults. With slightly higher prices than Zales, they offer gift guides for items under $250 and over $1000.
If you have a picture of the jewelry you're looking for, use their visual search tool to find something similar. Or chat with a Kay Jewelry expert online to help you finish up your Christmas shopping.
Personalized Gifts

With personalized gifts arranged by price, product type, and recipients ranging from your teacher to baby to pet, Personalization Mall offers a wide range of customizable products like stuffed animals, photo frames, ornaments, coffee mugs, and embroidered blankets. Easily add photos, names, and special messages and preview the results before purchasing with their product preview technology.
Gifts for Kids
For gifts for good girls and boys, check out our following Santa-approved websites that take some of the hustle out of holiday shopping. Also be sure to visit our Toy Store and Game Store overviews for an even larger selection of top websites.

Gift your children some Disney magic with clothing, accessories, and toys featuring your children's favorite Disney, Pixar, Marvel, and Star Wars characters. Disney offers helpful gift guides for him, her, baby, and kids arranged by price for easy shopping. Whether you're looking for stocking stuffers or top toys, shop from a hand-selected curated list of kid-pleasing toys to take the guesswork out of your shopping.

With thousands of toys to choose from, Target makes it easy to do your Christmas shopping online with easy gift lists arranged by age, price, brand, or category, and curated gift lists, like "Gifts for Creative Kids" or "Buzz-worthy game gifts." They make it easy to find the perfect gift and reach check out in record speed. Target also offers in-store pickup.

Not just for kids anymore, Lego designs and sells kits for every age and interest. With themes ranging from Star Wars to Harry Potter to popular TV shows like Friends, Lego has a gift to suit children and adults alike. Easily shop by theme, age, price range, or interests to find the perfect gift for the Lego fanatic in your life.

In 1896, founder Frederick Schwarz proclaimed his toy store FAO Schwarz the "Original Santa Claus Headquarters" in New York. It's been known for its marvelously bountiful selection of one-of-a-kind toys and holiday magic ever since. The iconic toy store's website features an easy-to-use gift finder tool and shoppable categories like STEM, plush, dolls, or pretend play. Going above and beyond, they also offer a complimentary personal shopper service via Zoom to help you pick the perfect gifts for the special children in your life.
Turn your kitchen into Christmas cookie central or prepare a memorable and delicious Christmas dinner with recipes and food ideas from the following hand-picked websites. For even more websites with delicious ideas, check out our top Christmas recipes websites.

Whether you're looking for Christmas or Christmas Eve dinner ideas, Taste of Home is a great source for inspirational blog posts and well-reviewed recipes. If you're looking to add a new Christmas cookie to your list this year, check out Taste of Home's 150 of our best Christmas cookie recipes. Or search by categories like edible gifts, easy and quick recipes, vegetarian recipes, and dessert recipes to help you get new inspiration for your Christmas celebrations.

With reviewed recipes from cooks all around the world, Allrecipes is the perfect source for discovering new family holiday favorites. View recipes by category from Christmas appetizers to fudge to eggnog and mulled wine. Or if you prefer browse crowd-pleasing staff picks like Cream Cheese Penguins or 5-Ingredient Peppermint Bark. Also, make sure to check out their blog articles for great ideas for your Christmas dinner, including traditional Christmas menu ideas or make-ahead Christmas desserts.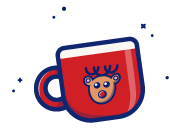 Set the perfect wintery Christmas dinner table with tableware and dinnerware from the following hand-curated websites. Also, feel free to check out our Dinnerware guide for best online stores for dinnerware.

For vintage-style tableware reminiscent of your grandmother's Christmas dinner table in all of the best ways, check out Williams Sonoma's collection of dinnerware and serving ware that is perfect for mixing, matching, and layering. With items like platters and serving bowls featuring penguins and Santa and his reindeer or more elegant snowflake and pinecone motifs, cut emerald and ruby-colored glass goblets and festive table linens, you'll be sure to create a very merry Christmas dinner table this year.

For over 200 years, Pfaltzgraff has sold quality products like dinnerware and ceramics for the home. If you're looking for reasonably priced dinnerware sets with festive and classic designs like winter berries or snowflakes, Pfaltzgraff should have what you're looking for.

Recognized as a leader in fashionable dinnerware, Mikasa sells elegant and timeless Christmas dinnerware, drinkware, and serving ware that evoke the holiday spirit with festive designs like wisps of mistletoe embellished with silver and gold or cardinals perched amongst snowy evergreen branches.

Playfully curated with vintage storybook vibes, Pottery Barn's Christmas collection features dinnerware decorated with forest gnomes, handcrafted grinning reindeer ceramic mugs, and peppermint swirl drinking glasses. Their collection feels nostalgic but totally fashionable and is sure to charm your guests and usher in some Christmas magic. The website also features beautiful photography showing how to mix and match pieces for a splendidly magical and rich Christmas dinner table worthy of Jolly Ol' Saint Nick himself.

Discover the greatest Christmas gifts with the Holiday Gift Guides on Amazon, featuring everything from fashion to electronics. Also check out the Holiday Prep Shop for Christmas décor, trees, serverware and more. Ad
Sending out Christmas cards to family and friends is an annual tradition adored by many. Whether you send out traditional greeting cards, personalized photo cards or eCards, this guide will help you spread your holiday cheer to those you love.
eCards
For eCards, websites like JibJab and Jacquie Lawson provide fun, animated and musical cards that spread Christmas cheer and smiles instantly and conveniently in the internet-age. For more top eCard websites, check out our eCards guide.

Traditional Greeting Cards
Classic and beautiful, traditional greeting cards with festive details and hand-written messages are always thoughtful.

Selling cards individually or in card sets, Papersource offers a wide variety of humorous, classically joyful, and cute illustrated designs sure to put a smile on the faces of your loved ones this holiday season.
Personalized Photo Cards
The personalized Christmas photo card is a cherished annual tradition for many families. It's a time to share what's new with your family and see how much you've grown in the last year.

Shutterfly offers a huge selection of festive, pre-designed templates to send your family's best holiday wishes this season. With options for gold foil, glitter, and all sorts of personalization, you're sure to find the perfect postcard!
Invitations

Send invites for your next holiday party via text or email easily with Punchbowl. They have a huge selection of themes and designs. It's super quick for guests to respond and easy for you to keep track of RSVPs. Although the website is not free, they currently offer a 7-day free trial and a basic plan for $4 per month.
Christmas is the perfect time for crafting. Whether you're hosting a festive craft night at home, creating your own hand-made Christmas cards or working on a new decorative wreath for your front door, the following crafts websites offer everything you need to turn your idea into a reality. For even more Arts & Crafts stores, check out our hand-selected selection of best Arts & Crafts websites.

No matter where your crafting interests lie, Michaels has the craft supplies you need for the perfect Christmas craft. If you're looking for an easy craft night activity, Michaels has wooden and ceramic ornaments and nutcrackers to decorate and paint, acrylic ornament balls to fill and decorate, and felt stocking craft kits. They also offer everything you need for card-making, yarn and embroidery crafts, and wreath-making. Be sure to check out some of the DIY ideas on their website for inspiration.

Hobby Lobby is a treasure trove of Christmas craft supplies, ranging from festive stickers and paper for scrapbooking, Christmas-colored pom poms, wooden personalizable ornaments ready to paint or decorate, Christmas jewelry making supplies, and easy craft kits for kids and adults to take the planning out of your holiday craft party.

Surprise someone special in your life by dressing up as Santa!

On Partycity you can find everything to turn yourself into Santa.

There's something truly magical about a Christmas movie night. Hot cocoa in hand, cuddling under a blanket with those you love, Christmas lights twinkling outside in the chilly nighttime air. Few things in life are cozier…

Can't figure out what Christmas movie to watch? Check out Rotten Tomatoes for the best Christmas movies of all time. Whether you're in the mood for something nostalgic, like It's a Wonderful Life, a family favorite like A Charlie Brown Christmas, or less stereotypical films like Die Hard! or Gremlins, you're bound to rediscover an old Christmas favorite or find a new holiday favorite.
---

Check out our handy overviews of the best movie streaming services and the best websites for movie reviews.
---
---

Join us on Facebook