---
All Shopping Home & Garden Family Food Life Holidays
---
May 31, 2022 (last update: June 22, 2022)
Father's Day Gifts
Don't forget: Sunday, June 19, is Father's Day. With Mother's Day in the rearview mirror, it's time to consider the fathers in your life. Whether it is your colleague who has a newborn at home, your granddad, your lovely husband, or your very own father, it's time to show some support for all they do. Here are some great places to shop online to find the perfect gift for any father that you know.
Kadaza is reader-supported. When you buy through links on our site, we may earn an affiliate commission.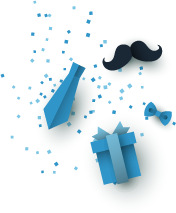 Who doesn't need a good shave, no matter the style of facial hair—or lack thereof—your dad sports? With gift cards and gift sets, you can get the dad in your life a manly-smelling set of products to make him smooth and sleek for any occasion. No membership is required for this gift!

Any man can use a bit of whimsy under his cuffs to keep him happy at even the most boring board meeting. Socks can have anything that you think will give him a kick: polka dots or poodles, junk food or argyle, The Beatles, or beer. You name it, and they probably have it!

Personalized videos or ecards are the names of the game at JibJab. What fun you can have making something to charm your father on this day. You can stick your face—or his—on a music video, an animation, or a special "what I like about dad" video.

When you shop for Father's Day gifts on Amazon, you have a fantastic array of choices. If you have a Prime Membership, shipping is free and fast on most items, and returns are easy. You can choose lots of name-brand goods, but with more convenience. Or you can get lesser-known brands that are similar for a smaller price tag, meaning you can afford a bigger gift. To tickle his taste buds, you could consider a stovetop pizza oven or a sleek stovetop coffee pot made in Italy. Get him a Kindle or just a book of terribly good dad jokes if he likes to read. For simplicity, just a baseball cap that says "DAD" might be all he needs. For handy dads, a ratcheting screwdriver could fit the bill, or wind-up emergency radio with a cellphone charger and flashlight. A Polaroid camera or a portable photo printer could be nice if he has a photographic flare. And if you want to fill his Father's Day with fun and games, try a backyard premium toss game to play with the whole family.

Make sure dad knows this is just for him by getting a personalized gift with his name or your pet nickname for him on it. Think barware, barbecue accessories, t-shirts, frames, and more. How about a personalized tape measure or a photo tie? Just for that father figure, so he remembers you do love him.

Gadgets and tools are what you get at The Grommet, with unique and useful finds for any hobby. Golf gear, tech tools, or perfect thingamabobs for the sports fan. All kinds of things you didn't know the man in your life needed until you saw it on this website. Brilliant!

If your dad is an oenophile or has ambitions to become one, a gift of wine is a fine idea. Whether you want a simple bottle or two, or a big gift basket, you can find it here. Plus, they have cheese, chocolates, and serving ware that could make a gift into a party.

Crate & Barrel is an excellent resource for gifts for men, with barbecue tools, pizza ovens, outdoor smokers, classy coffee makers, plants, barware, games, and gadgets. How about a record player, cotton robe, or an air fryer? Any of these would be a terrific surprise for the dad you love.

Honor your dad by preserving his stories, memories, and jokes—okay, maybe not the jokes—with a gift from Storyworth. Ask him a question a week, his replies will be collected and forwarded to you, and at the end of the year, you will have a bound book to share with your whole family.

Nothing says "relax" like a pair of L.L. Bean's moccasins. These come in multiple earth tones and sizes up to 14 and wide widths, too, so you should be able to fit even the giant in your life. They are genuine shearling lamb fur, so snuggly and cozy is the word.

You can find practical gifts for Father's Day at Home Depot, but not just for fixing the house. You can buy gardening tools, barbecue accessories, tech gadgets to upgrade your smart home, hobby essentials for outdoor sports like fishing or camping, and tools to work with wood. Or just a gift card, so he can get exactly what he needs for the project that is on the top of his list.

Consider Etsy for all the handmade items on your list, especially if you like to support small businesses and individual artists. For example, here we have a quality leather watch pouch for the man who wants to keep his timepiece safely stored until he needs it.

For something uncommon for your dad, look no further than Uncommon Goods. With a promise of sustainable practice and support for small artists, this site has something for everyone. For something personalized, try a framed original print to represent your family, complete with your choice of skin tones and characteristics and your family name. For the comic collector, who could resist a personalized Mega Dad comic book, complete with your choice of skin tones for the hero and his child's name included in the story. Pick a mid-century-style dog blueprint of the dog breed he loves if he fancies his dog. Or try the bargain of five pairs of personalized cotton socks with his name, initials, or favorite phrase knitted right on the side.

Esquire Magazine has selected the best gifts for dads that got what their kids call a 'cool dad'. Here you can find the best gifts for dads with an affection for fashion, trends and style.

At the site of GQ magazine you will find special and stylish gift ideas. From the "Art of Ping Pong ping pong table" to the "Celine the Elliott lace-up sneakers", their gift ideas are actually really great.
---
---
---

Join us on Facebook