---
All Home & Garden Family Health Food Life
---
Meal Delivery
October 15, 2021 (Last updated: November 7, 2021)
---

The ultimate guide to Meal Delivery Services
Nowadays there are more and more meal delivery services to choose from if you're looking to save some time in the kitchen or for a healthier and cheaper alternative to take out. Many of these companies tailor their recipes and menus to specialty diets--like vegetarian, vegan, keto, paleo and low-carb--so it's easy to find a service that meets your particular dieting goals or tastes.
Whether you want your meals to come fully prepared and ready to heat and eat or you prefer to receive weekly meal prep kits that get dinner on the table with minimal planning and preparation, you are sure to find a delicious option in the following guide!
Kadaza is reader-supported. When you buy through links on our site, we may earn an affiliate commission.
No meal planning
If the question "What's for dinner?" haunts you weekly, or you rather spend your time doing things other than brainstorming what to eat, a meal delivery service could be your savior. With most of these meal delivery services, you can expect to receive two to six meals weekly without having to think out what's for dinner.
Also, if you're on a diet or trying to adhere to specific macros or goals, many of these options like Trifecta or Blue Apron clearly list nutritional information and calorie counts for all their recipes.
No grocery shopping
With prepared meal delivery services, ready-made meals or prepared ingredients are shipped straight to your door, so you don't need to spend time every week making your shopping list and visiting the store. One less errand for the week!
Less food waste
With perfectly portioned foods, you don't have to feel guilty for those shriveled zucchinis in the bottom of your fridge that you never got around to cooking. You only receive the food that you need for your meals. No more, no less.
Learn new cooking skills and try new foods
If you're hoping to expand your food horizons and learn how to cook new cuisines and use diverse ingredients, a meal kit delivery service can help you break away from your current cooking rut and gain more confidence in the kitchen!
Save money
Depending on your current lifestyle, switching to meal kit or prepared food delivery services could save you some serious money. If you regularly find yourself turning to take out or delivery or you buy expensive groceries only to see them go to waste, you'll likely save some bucks with the following options. Also, many of these services allow you to pause your subscription, so if there's a week that you're not interested in receiving meals you won't have to lose money.
Meal prep kits take the meal planning, grocery shopping and mental energy out of dinnertime. With options for every budget, diet, and lifestyle, the following websites offer weekly subscriptions for prepared meal kits shipped straight to your door. You simply select your meal plan preferences, choose particular recipes that interest you, and receive ready-to-cook meal kits with easy-to-follow directions. Check out the following list for the best meal prep kit options that make cooking dinner a breeze!

HelloFresh is America's most popular meal kit, offering a wide variety of recipes with 27+ recipes to choose from weekly. With plans particularly tailored to carnivores, vegetarians, pescatarians, calorie-counters, and families, you can choose to receive two to six meals a week all delivered in convenient pre-portioned meal kits.
Each meal has easy-to-follow recipes with clear nutritional info, and when selecting your preferred meals it's easy to avoid common allergies like dairy, gluten, nuts, and soy since all of their recipes are tagged clearly. It also makes it very easy to keep to popular diets like paleo or keto.

If you're new to cooking and want to expand your culinary horizons, Blue Apron can be a great way to gain new confidence in the kitchen and learn new skills. The recipe cards are simple to follow and educational when there is a new ingredient that might not be familiar.
You can choose recipes based on dietary options like Weight Watchers-approved, carb-conscious, plant-forward, vegetarian, diabetes-friendly, and sub-500 calories. The recipes for the next month are listed clearly with the prep time, so you can better plan out your evening. They also offer a paired wine service if you're hoping to elevate your meal for a special dinner.
If you're concerned about the packaging materials in your meal kits, Blue Apron has partnered with How2Recycle to educate you on how to recycle the packaging in your meal kits.

Home Chef is an excellent option for picky eaters or for those new to cooking. First off, Home Chef offers more meal options than any other meal delivery service. With over 38 meal kits to choose from weekly, you're sure to find something you like! On top of that, they allow you to customize recipes. For example, you can swap out chicken for fish or double your protein. Also, you can upgrade to antibiotic-free or plant-based meats instead of regular meat.
If you're a cooking novice, Home Chef's detailed step-by-step recipes will walk you through preparing the whole meal from start to finish. They also provide useful tips like not cleaning a pan that could be used later for a sauce. However, if you're an experienced cook, you might find these directions a bit tedious.
If you don't feel like cooking, Home Chef also offers oven-ready meals, which come with everything you need to prepare your meal, cooking tray included. No need to worry about a messy kitchen or doing dishes!

Known for their healthy and fresh meals featuring organic, sustainably-raised, non-GMO ingredients, Sunbasket often receives rave reviews for their meal kits. Choose from up to 18 organic meals each week, including vegan, paleo, gluten-free and vegetarian meals all featuring farmer's market-fresh ingredients.
Developed by Justine Kelly, a renowned San Francisco-based chef, Sunbasket's recipes are delicious and creative. Many meals are approved by nutritionists, and most meals can be prepared in 30 minutes or less.
But if finding even thirty minutes is tough, they also offer premade "Fresh and Ready" meals that arrive ready to heat and eat.

If you're on a budget, EveryPlate is the best cheap meal kit service at a low $5 a plate at the time of writing. To keep their costs down, EveryPlate offers a smaller selection of only eight meal kit recipes to choose from weekly. Although you'll find far fewer options for special diets and vegetarians, their meals are generously portioned, varied and standard crowd-pleasers. Think comfort foods like lemon-chive chicken legs and home-style meatloaves.
To get an even better deal, make sure to look online for a promotional discount code for new subscribers.

Another budget meal kit option is Dinnerly. With uncomplicated meals known for their simplicity, Dinnerly will help you get meals on the table at record speeds.
Unlike many of the other services, Dinnerly does not provide printed recipes, so you will need a screen to read them. All the recipes come with five simple steps. Targeting busy parents, many of the recipes are kid-friendly favorites, take less than 30 minutes to prepare, and/or are one-pot meals.

Shortly after they acquired Whole Foods in 2017, Amazon launched its meal kit service. Available exclusively to Amazon Prime members who are approved to shop through Amazon Fresh, Amazon Fresh meal kits deliver prepped ingredients for one-pan meals that come together in less than 30 minutes—with no subscription commitment. Although it's great to not be obligated to a subscription service, Amazon Fresh is only operating in select cities, including Las Vegas, Atlanta, Baltimore, Boston, Chicago, Dallas, Denver, Los Angeles, Miami, New York, Philadelphia, San Diego, San Francisco, Seattle, Houston, Minneapolis, Phoenix, and Washington, D.C.
Amazon Fresh's meal kit selection is limited and offers no options for customization, but it is a great option for the occasional pre-prepped meal. If you're looking for a more ongoing regular meal plan kit subscription, then we recommend turning to one of the other services.

If you're crazy about smoothies and soups, Daily Harvest is the best meal delivery kit service available. Designed by nutritionists and packed with fruits and vegetables, Daily Harvest ships you the pre-measured ingredients for healthy vegan soups, smoothies, and bowls.
The mostly organic ingredients are frozen hours within harvest to preserve their fresh flavor. Since everything is shipped frozen, keep in mind that you will need ample freezer space for storing your weekly meals.

If eating organic is important to you, Green Chef offers the most organic ingredients of any other service, including quality produce, fish, and meats. They also tailor their menu options to those following a paleo, keto, pescatarian, vegan, vegetarian, or gluten-free diet, so you should be able to find options that work for you.
They're also committed to sustainability and offer recyclable packaging and 100% carbon and plastic offset.

If you're short on time but still want to cook, Gobble will make sure you have dinner on the table in twenty minutes or less. Taking away some of the most tedious and time-consuming tasks of cooking, like chopping and partial-cooking, Gobble provides all of the ingredients you need for your recipe pre-chopped and prepared--think shredded cheese and sautéed onions.
Also since ingredients come pre-cut and partially cooked, you'll have far fewer dishes to clean, and who could complain about that?
They also allow you to make substitutions like swapping steak for chicken or upgrading to organic meat for an additional cost. There are vegetarian options and common allergens, like dairy or gluten, are listed clearly below each available recipe.

If you're a vegan or vegetarian, check out Purple Carrot for a wide selection of vegan, 100% plant-based meals. Rather than relying on processed plant-based meat substitutes in their recipes, Purple Carrot's recipes are based on fresh vegetables, beans, grains, and other whole foods. The weekly menu is customizable, and you can select features like high-protein, gluten-free or soy-free.
If you're new to veganism and trying to discover healthy, interesting recipes, Purple Carrot will provide you with inspiration and new ideas on plant-based cooking. Be prepared to come across less familiar ingredients like jackfruit, harissa, ancho chiles, cacao nibs or cashew cream on a weekly basis.
If you find yourself short on time one week, they also offer fully prepared ready-to-eat meals and breakfast and lunch add-ons.

For the best deals, make sure to search for promotional offers for new customers. Most of these websites offer discounts when you first subscribe.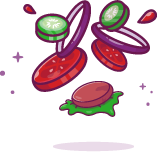 If you rather leave the cooking to the chefs, the following prepared meal delivery services deliver ready-to-heat meals to your door. Whether you're hoping to finally eat healthier or you can't be bothered to think about dinner after a long day at work, the following sites will have you covered.

If you prefer to receive healthy ready-to-eat food to your door, Factor is a meal delivery service that does all of the chopping, measuring, and cooking for you. All you need to do is select your meals and they're shipped to your door, ready for you to heat and eat.
Focusing on nutritious meals, Factor meals are grass-fed and pasture-raised, gluten-free, antibiotic- and hormone-free, soy-free, non-GMO, and have no added sugar. There are also good options for vegans, the calorie-conscious, and those following a keto diet. They also offer a 20-minute nutrition consultation if you're looking for advice on how to improve your health and diet.

With 40 flavorful and delicious recipes from Martha Stewart to choose from weekly, Martha Stewart & Marley Spoon meal kits are perfect for experienced cooks looking for an opportunity to explore new flavors and authentic international cuisines without the meal prep and food shopping. They offer five meal plan options to choose from: Health & Diet, Vegetarian & Vegan, Meat & Fish, Under 30 Minutes, and Family-Friendly.
Although the service claims that meals can be prepared in only six steps and on the table in less than 30 minutes, the recipes sometimes take longer than the listed time estimates, so make sure to read the recipes and plan accordingly in advance.

If you're looking for comfort food meals, like steak peppercorn or sausage baked penne, that come fully cooked and ready-to-eat, look no further than Freshly. All you need to do is reheat them in the oven or microwave. Since the meals come in single-serving, mostly recyclable cardboard packaging, these are particularly good for work lunches.
Freshly's meals are never frozen. They also offer options for dairy-free, gluten-free, and soy-free diets and list macro information to help you reach your protein and carb intake goals.

If you're into cleanses and detoxes but are short on time, check out Sakara. Dedicated to clean, plant-based nutrition, Sakara was co-founded by Whitney Tingle, a yoga instructor, and Danielle DuBoise, a holistic health coach. Sakara provides fresh ready-to-eat meals, teas, and supplements. Their organic, plant-based, gluten-free, dairy-free, non-GMO meals include no refined sugar.
Sakara's meal programs come with herbal detox teas and supplements to help you boost energy, reduce bloat and improve digestion. One of the company's pillars is that you should "eat the rainbow," so their meals are super colorful, like their Sweet beet and toasted cashew medley with tricolor quinoa and carrot-ginger glow dressing.

If you're looking for your meal delivery service to help you reach your fitness and diet goals, Trifecta Nutrition provides nutritious, organic ready-to-eat meals, coaching, and community support. With a quiz to help you assess your body type and performance needs, you can select a meal plan that suits your fitness goals, personal preferences, budget, lifestyle, and health, including plans for keto, paleo, vegan and vegetarian diets.
Aimed at helping you reach your muscle gain and weight loss goals, all of Trifecta's recipes clearly list their nutrition facts and macros, including carbohydrates, fats, and protein.

For affordable, organic ready-to-eat meals, Fresh n' Lean ships ready-made meals to your door in an insulated chilled box. It's perfect for singles who don't enjoy cooking. All you need to do is microwave the meals for three minutes when you're ready to eat. Focused on nutrition and athletic performance, Fresh n' Lean's menu includes protein-packed, Paleo, keto, vegan, and vegan low-carb options.