---
---
Budgeting and Money Management
November 02, 2021 (Last updated: November 7, 2021)
---

The Best Budgeting and Money Management Tools
Regardless of where you're at in your personal finance journey, having access to the right tools and resources can make all the difference. Fortunately, there are plenty of resources available to choose from.
Budgeting apps can help you pay down and manage your money more efficiently. Financial sites can help you compare lending products and know whether or not you're getting a good deal.
This article will review some of the best online budgeting and money management tools available. The right personal finance resources can help you manage a monthly budget, pay down debt, and save for retirement. Each of the resources outlined in this guide can help you improve your financial situation and get a picture of your overall financial health.
Kadaza is reader-supported. When you buy through links on our site, we may earn an affiliate commission.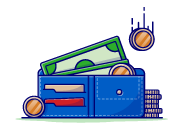 The ability to create and manage a monthly budget is crucial for beginners and financial experts alike. If you're looking for the right budgeting software, this list outlines six free and paid versions you can consider.

EveryDollar is the budgeting app created by personal finance expert Dave Ramsey. And if you're looking for simple, customizable budgeting software then EveryDollar is a good choice.
The software lets you create a zero-sum budget where every dollar is assigned a "job." That way, your monthly income is accounted for and you know where your money is going. EveryDollar comes with pre-set spending categories, but you can also create your own.
And you can use the software to track where you are in Dave Ramsey's signature financial "baby steps." However, EveryDollar is solely a budgeting app -- you can't use the software to track your investments or anything else. So it gives you a limited view of your financial situation.
Cost: Free or $129.99 annually.
Best for: Creating a customized budget
Pros
• Comes with a simple, straightforward interface
• Allows you to set up your own customized budget
• Lets you track where you are in the seven financial baby steps
Cons
• It's solely a budgeting app so you can't track your investments or monitor your credit score
• If you use the free version, you'll have to manually log your transactions

Mint is one of the most popular budgeting apps available, and it's been around since 2006. This free budgeting app is a great option for beginners, and lets you connect all your financial information in one place.
In addition to budgeting, you can track how much you're saving, spending, and investing. That way, you can get a complete snapshot of your finances. And Mint prioritizes your safety by implementing multi-factor authentication and other security measures.
Mint is always free to use, and users can access free credit monitoring tools as well. You can set up real-time alerts whenever your credit information is updated.
Cost: Free
Best for: Beginners to personal finance
Pros
• Gives you a complete picture of your finances
• One of the best options for personal finances beginners
• The app is always free to use
Cons
• There's no option for joint accounts
• Because the app is free you'll have to put up with advertisements

Quicken is one of the biggest names in personal finance, and it's available for Mac and Windows. In the past, Quicken for Mac got a bad rap but in 2016, Intuit sold the software to H.I.G. Capital. Since then, the Mac version seems to be operating much better.
Quicken is one of the best options for users that want a way to not only budget, but track all their financial information in one place. You can use the software to create a budget, set up bill pay, create financial reports, and much more. And if you use the PC version, you'll get access to business features as well.
Because of the added functionality, Quicken is pricier than some of the other options listed. The mid-priced plan -- which Quicken says is its most popular -- costs $51.99 annually. However, the software regularly goes on sale so you may be able to snag it for a cheaper price.
Cost: Three pricing plans: $35.99, $51.99, $77.99 annually
Best for: Tracking all your financial information in one place
Pros
• Robust, all-in-one way to track your finances
• The software is incredibly secure and uses SSL and 256-bit encryption to keep your financial info safe
• You can use the software to pay bills and transfer funds between different accounts
Cons
• The company has a poor track record when it comes to customer support

Personal Capital is an investment tool, and the free app comes with budgeting software. The financial dashboard lets you track your net worth and monitor your cash flow. And there's a retirement planning feature to help you monitor your financial goals.
And Personal Capital comes with several advanced features like an investment checkup. This feature lets you compare your portfolio allocation to the target allocation for your age and financial goals.
Ultimately, Personal Capital is geared toward individuals that are further along in their financial journey. If you're still trying to figure out how to come up with a budget, it's probably not the best option for you.
Cost: Free
Best for: Tracking your investments
Pros
• The app is completely free to use
• Provides a comprehensive picture of your investments
• Comes with several advanced features
Cons
• The company may try to upsell you on its wealth management services

You Need a Budget (YNAB) is similar to EveryDollar in that it focuses on zero-sum budgeting where every dollar has a purpose. The app automatically syncs to your checking account so you can track your expenses.
But instead of assigning the funds to different categories for you, you'll choose each of your spending items. For instance, if you have $2,500 in your checking account, you'll assign that money to different budget items.
Throughout the month, you can see if your balance is getting low in certain areas. This feature forces you to be thoughtful about your purchases and stick with your budget. It's a great option for anyone trying to get out of debt and create long-term savings goals.
Cost: $11.99 per month or $84 annually
Best for: Anyone trying to get out of debt
Pros
• Provides free workshops and other financial resources
• Lets you choose between monthly and annual pricing
• Comes with a free 34-day trial period
Cons
• You can't use the app to pay bills
• There is a slight learning curve to get started

Expensify is the best option if you're looking for a way to track business expenses. It's not technically a budgeting tool, but it does integrate with YNAB. Expensify will save you tons of time when it comes to generating expense reports.
It's an app that's available for iOS and Android devices, and it's an easy way to track your expenses and submit them to your employer. You'll scan new receipts and the app will automatically pull out the important information and turn it into a logged expense.
Expensify also links to your bank account and imports your expenses. The software is free for up to 25 scans per month, and then individual pricing is $4.99 per month.
Cost: Free for up to 25 scans per month, or $4.99 monthly
Best for: Generating expense reports
Pros
• Easy way to track business expenses on the go
• Integrates with dozens of populars apps, including YNAB
• Free for up to 25 scans per month
Cons
• Customers have complained about glitches with the app
• Customer service receives mixed reviews

Although the right personal finance resources and tools can help you manage your budget, financial fitness starts with financial education. Check Amazon for the best books on personal finance.

Ad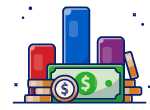 When you're evaluating different mortgage lenders or comparing other financial products, you need trustworthy resources you can turn to for advice. The following sites provide comprehensive financial information to help you make informed decisions about your money:

NerdWallet provides individuals and businesses with the resources they need to make smart money decisions. The company does this through its comprehensive personal finance blog, and by connecting you to the right financial products. And you can use the NerdWallet app to track your credit score, credit cards, and spending all in one place.

The Balance is one of the best sites for comprehensive, unbiased reviews of financial products. All of its writers and editors have extensive personal finance experience, and the content is free from any ethical conflicts.

If you're looking for a way to track your credit score, Credit Karma is one of the best options available. The app is free to use, and comes with an excellent user experience. The company will recommend ways you can improve your score, and you'll receive recommendations for financial products you're likely to qualify for.

CNBC is a leader in business and financial news. You can use CNBC to stay on top of the latest financial news, including stock picks, IPOS, and non-trading advice.

Kiplinger's Personal Finance provides helpful advice on investing and overall money management. It's a great way to learn about the newest financial trends, and stay up-to-date on the best investing strategies.

U.S. News & World Report is one of the most trusted sources for its rankings on various financial products. You can use the site to review investments, retirement accounts, loans and other personal finance resources.

Bankrate is another excellent resource to help you improve your financial situation. When you create an account, you can access courses, quizzes, and other financial content. And if you're comparing various financial products, Bankrate provides unbiased information to help you make the right decision.

Consumer Reports provides trustworthy reviews of a variety of financial products. You can use the site to get a clear picture of whether a bank account, credit union, or insurance policy is the right choice for you.