---
All Life Fashion Sports Shopping
---
April 3, 2022
Buying Sports

Shoes Online
---
If you perform any sport, you know you need the proper footwear to perform your best. Each sport has different needs, and sports shoes have evolved to be very sophisticated in their differences. Even if you aren't a top marathoner or soccer player, these features impact your enjoyment and safety while doing your sport. And even if you aren't terribly sporty, sneakers of all types are now cool shoes for fashion, relaxing, and any casual activity. Even many places of business are okay with employees wearing sports shoes. That is because you move more ergonomically and feel more comfortable in a shoe designed for performance. So, whether it is for a competitive advantage on the field or just to help you feel supported in your daily life, choosing a good sports shoe can rock your world.
Kadaza is reader-supported. When you buy through links on our site, we may earn an affiliate commission.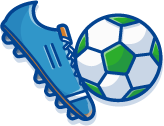 ---
Suppose you don't have time to go into a running shoe store, or you prefer to get multiple perspectives on your choices. In that case, online research online can help you understand the types of sports shoes available. By reading expert opinions for your athletic shoe options, you may discover whole new features to improve your foot comfort and health. The innovations in sports shoe manufacturing can alter your gait, support your foot in unique ways, and even get you to the next level in your fitness. You may find types of soles or support technology that will make any foot problems you may have magically disappear. Read up on user reviews, guides, and expert evaluations to help you find out what is out there.

Running shoes are not just for runners—many of us wear them for everyday comfort, walking, and other sports. If you run, you certainly know Runner's World for tips of all types, but no matter how you locomote on your feet, runner's world has terrific guides and reviews of running shoes. Check out best-of-the-year articles, picks for men or women, and even articles on shoes with the best stability.

The folks behind RunRepeat are self-described "shoe fanatics," and they test and rate thousands of shoes. They do lab testing and also have testers wearing them for at least 10-20 hours before reviewing them. Not only will you find categories for running and trail running, but hiking, climbing, Crossfit, basketball, golf, cycling, and more. You can look at comparison charts that detail features, then read more in-depth coverage of each shoe for tips on why you might or might not like it.

Sport shoes are easy to find on Amazon, with choices for budget or pizazz available for quick shipment. You can check out all the big brands like Nike, Adidas, Brooks, and you just might find a pair with a good discount. If you are a prime member, shipping and returns are free, so go ahead and see what you can find that has the right fit and style for your foot.
Sponsored
---
Buying the right running shoes is essential for anyone who exercises, especially if you have some special foot needs or problems. If you are a serious runner, you will understand how the right shoes can affect your stride and your whole body. For best results, in that case, order a couple of different styles and a couple of different sizes and plan on only keeping what feels great on your feet. Even if you have to pay return shipping, it is worth it to get a perfect fit. Find the most popular sports stores where you can find your sneakers, and possibly the clothing to go with them for your favorite activities or check out our favorite stores for sports shoes below.

The iconic mall store Footlocker is excellent for famous athletic footwear from the leading brands. They have shoes for the whole family and carry the latest in-demand shoes for the footwear-conscious athletic and casual dresser. Footlocker has frequent sales, and you should also check out their selection of functional sandals and heavier athletic shoes for outdoor sports.

Dick's is a good place to shop for a full range of sports shoes. Not only do they have extensive selections of name-brand running and walking shoes, but they also carry cleats, hiking boots, sport sandals, and slippers. To shop for the proper togs for your sport of choice, Dick's is sure to have something to fit the bill.

If you are not sure which brand of running shoes will be the best for your feet and your body, Fleet Feet is an excellent site to check out. They carry serious running shoe brands like Hoka, Brooks, New Balance, Asics, and more. Plus, they have good articles to help you select shoes for your own unique needs.

REI carries all kinds of sports shoes, with a particular emphasis on outdoor sports. You can find good brands of hiking, water, walking, and running shoes, plus boots and slippers. They also carry a great selection of quality insoles to make any shoe into a supportive experience.

You can find shoes for any sport, outdoor activity, or even steel-toed work boots at Academy.com. Good brands for rain boots, running shoes, garden sandals, and casual shoes are all here, and there are many on sale with good discounts.
---
It's clear that brand matters when you pick out sneakers for sport or fashion. With many limited editions and exclusive styles released by major companies, you can become a connoisseur or collector of sports shoes. But often, finding a brand that consistently works well for your feet will keep you returning to that brand time and again. Every once in a while, you might want to try something new as the technology of sports shoes is improving and changing all the time. Check out these highly-rated brands for some inspiration for your shoe shopping.

Hoka's original athletic shoes have an oversized midsole, with many advantages for alignment and movement. Yet now, they carry a range of styles for fitness activities of every type, all with engineered footbeds designed for comfort, health, and to encourage movement. People rave about Hokas for their comfort, especially people with any kind of foot problem.

Nike is a go-to fashion brand that also works well for many sports. The Air Jordan is a fashion staple for many people, with new styles coming out all the time. Whether you are going purely for solid sports shoes or like the flair of an inspiring and exclusive design, you can't go wrong with Nike's.

One of the best ways to shop on the Asics site is by sport. They cover your bases for the primary uses you will have for their footwear and offer high-quality shoes for the whole family. The iconic design on the side is one of our favorite parts of the Asics line, but many Asics customers revere the comfort.

Brooks running shoes are not only great for runners, but many people just find them comfortable for everyday casual shoes. Plus, they come in some lovely fabrics and patterns, making them fun to wear. So serious runners and ordinary people will have good luck with Brooks shoes.

Altra has innovations that make them comfortable for many runners for a newer take on the running shoe. With the engineering of the shoe a primary concern, these shoes may be the perfect choice on the trail or the track.

You may think of Adidas as just sports shoes, but they also carry great slide-on sandals that every athlete will appreciate once they take off their working shoes. The range of styles is fashion-forward, even as they cradle your feet for athletic prowess.

If you are of a certain age, you will remember Reebok as THE shoe for aerobics dance classes during the '80s. Since then, Reebok has stayed on trend with fitness types and expanded its offerings to include running, basketball, cross-training, and slides for all ages.

Saucony has an attractive line of running and athletic shoes for all ages, and they offer good value for the money. So if you like colors and gorgeous styles for your running or walking pleasure, this is a terrific place to shop.
---
---

Join us on Facebook