---
All Shopping Home & Garden Family Food Life Holidays
---
Valentine's Day
Last updated: January 16, 2023
---

Valentine's Day 2023 is on Tuesday, February 14
---

Valentine's Day 2023 Guide
---
Valentine's Day can be anything you wish it to be, but it is an especially nice way to cheer up someone's winter. If you have a spouse or partner, taking the time to make them feel special can enhance your love relationship. But you don't have to spend a fortune to show your love—you can do thoughtful gestures on whatever budget you have. You may wish to cook your mate dinner rather than splurge on an expensive restaurant. A handwritten note on a card, a thoughtful piece of jewelry, a tiny but beautiful piece of chocolate, or a song or poem—anything that helps you express your love can be a perfect physical token. For a mate, plan to spend time with them to celebrate, even if you have a busy schedule.
If you are not in a relationship, or if you want to bring some smiles to more people's faces, you can make special gestures to your co-workers, kids, siblings, parents, or even the person who serves you coffee at your local coffee shop. Spreading a little love in the world is always welcome, and on a day when some people may feel lonely or just tired of the winter weather, a heart-shaped cookie, a cute valentine card, or a candy, given out with good cheer can bring warmth to many hearts in your life. You could have a little St. Valentine's Day get-together for friends and neighbors—include as many people as possible in your circle of love.
Shopping and planning for Valentine's Day can be half the fun, so enjoy your time exploring what you want to do. When the day arrives, you will be happy you have a few lovely tricks up your sleeve to make your loved ones feel special!
Kadaza is reader-supported. When you buy through links on our site, we may earn an affiliate commission.
---
Where do you turn when you just don't know what to plan for Valentine's Day? That's right. The internet! While you can just search, there are resources that bring together the most useful general tips for you, for example, check out our handy and clear overview of the best websites for Valentine's Day. You can also find great inspiration from magazines that focus on the home and entertaining. Here are some places to start:
Country Living provides advice on all the comforts of home. This trusted lifestyle site gives advice on home decorating, recipes, DIY projects, and home renovation. They feature love-themed crafts, game ideas, gifts, décor, and more. A great site to get your creativity churning.

Designed for the "fashion-conscious soul," Elle Décor is focused on interior design following of-the-moment fashion trends. You will also find recipes for Valentine's Day cocktails, recipes, and decorations. For the stylish set—or those who want to become stylish—Elle Décor is the site to browse.

Southern Living has really cute heart shaped cookie recipes, but they also have articles that can direct you to some heart-themed products we love, like heart-shaped pizzas from Papa John's and Valentine's Day treats from Dunkin. They can also direct you to events happening in the Southern United States. The lifestyle tips here include lots of Southern culture, cooking, gardening, and home decorating to bring out your romantic side.

Martha Stewart comes through for St. Valentine's Day with the usual mix of excellent baking ideas, including how to make a heart-shaped cake without a dedicated pan, plus lots of beautiful crafts that will bring some cheer to your day. Though the recipes and crafts are superb, we also appreciate that the magazine has articles on how to surprise your loved ones, stories of real romances, and even an article on hosting a "Galentine's Day" party for your gal pals.

Shop Gifts They'll Love
If you are a regular Amazon shopper, you know that they carry many items at good prices, so you can find lots of options for what you seek. Plus, if you want to get a clothing or lingerie gift, but are not sure if it will fit, returns and exchanges are easy and usually quick if you have Amazon Prime. Sponsored
---

While lifestyle sites will get your creative juices flowing overall, and you might just find the perfect food ideas there, you will get a broader selection of cooking and eating ideas for the holiday from dedicated websites. Check out our comprehensive selection of the best recipe websites or check out some of our favorite food resources below:

To get beyond the cakes and cookies—though you will also find excellent recipes for sweets here too—check out some of the dinner ideas at AllRecipes so you can make the most delicious meal for your sweetie. There is lobster mac and cheese, surf and turf, filet mignon, and prosciutto-wrapped asparagus. And then look for some lovely strawberry and raspberry ideas to finish off your meal in romantic style.

Bon Appetit, the culture and food magazine that we have come to trust, comes through for you with neatly categorized recipes for your special night. You can browse recipes for pasta, steak, chocolate treats, pink- and red-themed deserts, and more. They even have a section of Valentine's Day menus, so you can put together everything from special coffees and cocktails to go with your elegant meal.

For tried-and-true recipes and food journalism, dive into the New York Times' Valentine's Day collection of recipes. There are the usual beef and desert ideas, but you will also find recipes for any ingredient you might like to feature, from cheese fondue to chicken. They have drink recipes too, and each recipe has an introduction that gives you tips or cultural background to help you fully appreciate the new ideas you try out in the kitchen and, more importantly, at the table.

Shop Valentine's Day Gifts
Check out eBay to find the perfect romantic gift. eBay carries all the traditional gifts you can think of, like watches, jewelry, purses, and perfume. But if you know the special interest of your honey, you can find an obscure vintage video game or a rare vinyl record or any other collector's item to delight them on eBay. Sponsored
---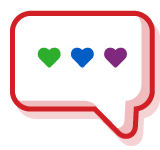 Whether your loved ones are near or far, cards are the quintessential Valentine. Ecards work to surprise a friend at work, or to delight a grandkid across the country. But to be a bit more traditional, you can go with a paper card. The top sites for cards are all here. Whether you want to pick one of their designs, or add your own pictures and message, there are resources for any type of valentine. Here are some more sites to check out:

Fancy and fun, the musical and moving ecards from Jacquie Lawson are becoming classics for those who love to send a little entertainment with their greeting. The choice of cards and customization will let you wow any lover or loved one. Think classical music, jazz, and amazing artwork and effects.

For a lively card with a sense of humor, you can choose one from JibJab with pop music and insert-your-photos customization. Then watch you and your love dance as flowers, a peanut butter sandwich, or the characters in a music video. They have music for every taste, from funk and soul to samba and rock. The lightheartedness can really raise your spirits.

Create Your Own Valentine's Card
Making your own cards can be a fun project for kids and adults. You can do it with simple supplies, or get fancy with foil transfers and glitter embossing. Whatever your fancy, whether just cutting our hearts from red paper or using rubber stamps to say "Happy Valentine's Day," you can find it all at affordable prices at Michaels.
---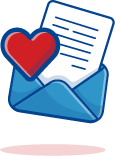 Make your cards just how your want them. For the people you love, your image is likely the most cherished thing you could put on a card. Today, there are so many options to do this, from very classic looks to funny and crazy cards. Browse some of your options here to get a feel for what might fit your style. The variety of choices to make your photos into something surprisingly creative abound. It gives a truly personal touch to your valentines.

Why spend a few bucks on a standard card when for about two bucks, you can make personalized photo cards for one or many loved ones? Shutterfly, the popular photo site, has many great Valentine's Day designs that you can customize and add your pictures to make a lovely card that people will treasure and want to keep.

If you want a variety of quality paper goods, including cards, gift bags, craft kits, and more, Paper Source has a wide selection of small bits and pieces to make the day special. They have decorative heart window clings, heart sunglasses, wrapping paper, and all sorts of cards for kids and adults alike. We especially like the unusually cute and sweet kids' valentines' kits.

Hallmark of course carries an extensive line of Valentine's Day cards, but their newer video cards really make the experience fun. The video card comes with a code you scan on your phone, you pick music, add your name and the name of the recipient, put in some of your photos and videos, and it all gets turned into a unique personalized video for your loved one to watch and cherish. But we also like their gifts, wrapping papers, and ornaments.
---
Cards are but one of the crafts you can make to celebrate love—consider knitting up something pink and red, making candles, or any other craft that you can imagine. Find a wide range of arts & crafts stores here.

For everything from silk flowers to decorative baking supplies, Michael's is a great place to find almost any craft supply you might need. Kid's crafts, party favors, gifts, photo crafts, pom poms, jewelry-making supplies, heart doilies, and even t-shirts to decorate—it's all there. Consider it a great one-stop shop for any decorating, baking, or craft projects you might be cooking up for your holiday.

Shop Gifts They'll Love
If you are a regular Amazon shopper, you know that they carry many items at good prices, so you can find lots of options for what you seek. Plus, if you want to get a clothing or lingerie gift, but are not sure if it will fit, returns and exchanges are easy and usually quick if you have Amazon Prime. Sponsored
---
As they say, the way to a man's heart is through his stomach, so don't forget about food gifts for this holiday. Sometimes its just easier to let the pros put together a nice basket for your honey.

Godiva carries Valentine's Day themed boxes of chocolates, including dark or milk chocolate covered strawberries, but you can satisfy any chocolate lover with the wide variety of chocolates they carry. They have nice gift baskets and chocolate sets that make a terrific office present for your favorite client or vendor, and you can find lots of hot chocolate making supplies too.

If you have ever worked in an office, it is likely that you have feasted on some of Harry and David's gift basket treats. Iconic baskets include pears along with chocolate, but they also have cookies, brownies, petit fours, cheese and meat baskets, and even gourmet ice cream. Their themed treats are quite beautiful and anyone will be delighted to receive one of their baskets.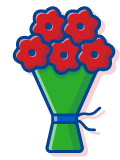 ---
Flowers are classic, but remember to order early, as the popular sites can sell out before the holiday. Last minute ordering might leave you scrambling to find someone who can get blooms to your sweetheart, so consider all your options here.

1800Flowers is one of the biggest flower retailers, so you are bound to find a bouquet that suits your budget and your fancy here. But you can also get baskets and other gifts for the day.
---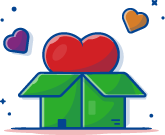 You can find gifts for Valentine's Day at many popular retailers like Target, but for a wider selection, look at our comprehensive overview of the best online gift stores or check out our favorites below.

Monogrammed robes are a great gift, but so are personalized stuffed animals, mugs, champagne glasses, and more. You can personalize with text or photos, and this can make any gift you give extra special.

For affordable gifts, Walmart is a great choice. But they carry so many options that you are bound to find something. We especially like the Cupid Love Dragon Figurine Set and the water activated lighted cups. Fun and interesting.

If you want to shop ethically for your Valentine's Day gifts, then Uncommon Goods is a great choice. They carry interesting and useful crafts straight from the makers and strive to do good in their business. Try a customized wooden Lazy Susan or a garden sculpture of elephants with intertwined trunks. Very innovative and unique gifts can be found here.

eBay carries all the traditional gifts you can think of, like watches, jewelry, purses, and perfume. But if you know the special interest of your honey, you can find an obscure vintage video game or a rare vinyl record or any other collector's item to delight them on eBay.

If you are a regular Amazon shopper, you know that they carry many items at good prices, so you can find lots of options for what you seek. Plus, if you want to get a clothing or lingerie gift, but are not sure if it will fit, returns and exchanges are easy and usually quick if you have Amazon Prime.

The gift stores in this guide make it easy to find inspiring ideas for handcrafted, personalized, or just plain interesting presents that will make a splash at Valentine's Day.
---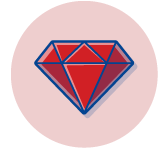 Whether you go for diamonds and gold, or a simple piece of costume jewelry, check out this easy overview of the best online jewelers. You can spend a lot at Tiffany's or spend a little at Claire's, which is our favorite shop to please those who love glittery accessories.

Classy and full-service, Jared can help you find quality and guaranteed fine jewelry that will be perfect for your love.

Zales has fine jewelry, but also more colorful and fun styles to fit almost any budget. They have a great Valentine's Day gift guide to jog your gift-giving mojo.

For an unforgettable Valentine's Day, even a small gift from Tiffany's will make it special. There is nothing like the iconic Tiffany blue gift box to knock anyone's socks off.

Not only can you find diamonds and pearls at Blue Nile, but you can also find gemstones and semi-precious stones to match every outfit. You can build your own jewelry too.
---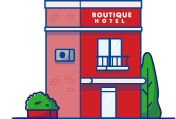 Planning a surprise romantic getaway for your spouse is a terrific way to celebrate. Whether you are flying them somewhere exotic for the weekend, or just booking a nice room at a nearby hotel, it can make your evening special. For a comprehensive overview of sites, see our easy overview of the best hotel booking sites. Here are some more details to help you find the right atmosphere for your romantic evening:

With almost every hotel, inn, resort, apartment, and cabin listed, Booking.com is a good resource. Reviews for each property can help you decide whether a place is worth the money and give you an insider's take on the vibe of the place.

For exotic and luxurious escapes around the globe, Relais & Chateaux is a good place to look. The site helps you find the type of getaway you can dream up—from safaris to exclusive resorts—and the prices aren't so high that you couldn't splurge a bit a take your lover somewhere truly special.

Small Luxury Hotels of the World can help you find just that: a quiet and personal experience in a smaller property where you can feel the local culture while also getting pampered.
---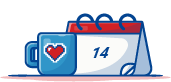 There are so many dating sites out there, and so much advice, but you can find the right sites for you by checking out our dating overview. While you may find multiple sites that could work for you, shop around to decide where you have the best chance of finding your true Valentine.

If you are looking for serious love and you are over 30, eharmony is one of the most popular and successful sites to try. It has a large database of users and many happy couples to show for it.

For another option if you are a professional, Elite Singles has a good interface and offers a platform where you can get recommended matches every day. They also have good articles on setting up a profile and dating to make your search for love easier.
---

Plan ahead
• If your children need to give out cards in their class, help them make sure there is a card for every person in their class and also for their teachers, bus drivers, babysitters, their grandparents, and others in their lives. Valentine's Day is a great time to teach kids about how nice it can be to give, what it means to express love or friendship, and to have empathy and compassion for those around them.
• Whatever you wish to do, think a bit in advance so you can purchase the right supplies, bake the cookies, sign the cards, or make the crafts so that you can make people feel special.
• Send out cards to far-flung friends and relatives well in advance, as the mail system can be slower than we would like. Check with what the postal times are in your area so you can time it well.
• Book a restaurant or getaway for you and your mate, plan a party, or just make a nice dinner with your family or friends. Get your social plans in order ahead of time.



Get creative

• Valentine's Day is a perfect time to get your crafts on. Make cards, gifts, decorations, and live it up.
• Creative cooking goes perfectly with the holiday. What a great opportunity to try a new recipe, whip up something fancy, or bake some goodies for friends.
• You don't have to go with the usual flowers or chocolates as gifts—think outside the box. Consider useful gifts, extravagant gifts, funny gifts, handmade gifts, or just plain having fun. Arcade games? Going to the movies? Anything you find fun can be your way to celebrate.



Pamper Yourself too

• Think about getting dressed up. Red and pink? Classic. Your fuzziest robe? Go for it. Just wear something a little special to make you feel your loveliest.
• If you don't have a mate, you can get together with friends or just stay home and pamper yourself. Don't wallow in your singleness—instead, show yourself some love. Have a bath, give yourself chocolates, or watch your favorite movie.



Share the love

• Little gestures can delight all the people in your life. Consider carrying around some cadies and giving them out to everyone you see. Or inviting friends over for some festive food. Spreading the love around can make you feel great.

Shop Gifts They'll Love
If you are a regular Amazon shopper, you know that they carry many items at good prices, so you can find lots of options for what you seek. Plus, if you want to get a clothing or lingerie gift, but are not sure if it will fit, returns and exchanges are easy and usually quick if you have Amazon Prime. Sponsored
---
On February 14 of every year, we observe Valentine's Day, also sometimes called St. Valentine's Day. Traditionally, it is a day to celebrate love and exchange gifts of candy, flowers, and cards with lovers. However, schoolchildren also often exchange Valentine's Day cards and candy. While this is a festival of love, the identity of St. Valentine and these traditions remains a bit of a mystery.
The month of February has long been celebrated as a time of fertility. The Romans had a festival in mid-February that included fertility rights and a lottery to pair off men and women. There are at least three saints in the Catholic Church that are named Valentine, and each of them was seen as a romantic hero, so it is difficult to decipher which one the day may be named for.
Suffice it to say that these days, we use this day to celebrate love in its many forms, exchange cards and candy not just with lovers but often with family members or friends as well. Finding your own way to celebrate the concept of love can take some creativity, but can be a pleasant way to mark the middle of winter and brighten the days just a bit with some sweets and flowers.
Happy Valentine's Day!