---
---
September 17, 2022 (updated March 13, 2023)
Vintage Clothing Online
---
You can now find vintage clothing and accessories online, making your search for that particular 70s print shirt much easier. Gone are the days when you had to go to a Goodwill Store or rummage sale to find gems that would make your unique fashion sense come alive. Instead, vintage shoppers will enjoy late-night scrolling and the ability to search by brand name, clothing type, era, and more. But it is still fun to see it as a quest—to discover an interesting piece at a reasonable price!
Kadaza is reader-supported. When you buy through links on our site, we may earn an affiliate commission.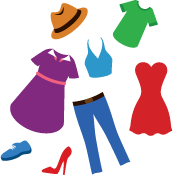 ---

If you want luxury fashion clothing and handbags, TheRealReal is a terrific place to shop. They have pre-owned items from the top fashion designers, and they rate the condition, so you know what you are getting. You can also find jewelry and shoes, all from the best names.

Dora Maar turns "archival" fashion into stories, delving into the history of the pieces, the designers, and the people who have owned them. With a focus on individuals with flair sharing their storefronts, the personal approach to high-end fashion makes shopping fun.

Looking for classic luxury clothes and accessories to remind you of a rich history? Look no further than Tradesy, which has authenticated goods from many eras and designers. They have Rolex watches, handbags, men's and women's clothing, and even a section for wedding apparel. Though you can certainly spend over $1,000 on many items, you will also find some terrific deals, like designer wedding dresses for a quarter of the retail price.

Selling your vintage clothing
Most sites that let you buy vintage clothing and accessories will also allow you to sell your own items on their platform. Some will be consignment, meaning you get paid once they sell, others will buy and resell your pieces, and some will let you be the seller and ship items directly to customers. But, again, the rules and processes are specific to the site, so if you find a place that seems right to market the precious garments that you no longer need, check out how to sell there to see if it will work for you.

For a more affordable range of vintage clothing, eBay has you covered. You can search the site for lightly worn items from the recent past or decades ago. The seller ratings can help you assess the merchant's reliability, ensuring that you will get your items in the condition the seller stated. In addition, you can find great prices on lesser fashion brands and even some rock bottom prices on luxury brands.

Etsy is another great site to find budget picks for stylish people. You can find vintage T-shirts, military uniforms, jeans, shoes, and more. With a more alternative and artsy bent, you can get items from previous years and decades, some from consumer brands and others from top fashion labels.

For a range of fashion from luxury to high-end pieces, 1stDibs is a good place to start. They have rare and unique clothing, plus good deals on designer looks from the past. To find your little bit of luxury at a decent price, you can't go wrong on 1stDibs.

Depop lets buyers and sellers participate in "circular fashion," keeping nice clothing out of landfills and allowing you to get big-name brands for a steal. You can also find small designers. Menswear and casual fashion are strengths, but you will also find good Air Jordan sneakers and inexpensive jewelry selections.

Poshmark.com is a great place to buy and sell vintage clothing, as well as other vintage accessories and home goods. Many Poshmark.com sellers specialize in vintage items, so you can often find unique and one-of-a-kind pieces that you wouldn't be able to find elsewhere.

Vinted is another online marketplace where you can buy and sell vintage clothing and accessories, as well as other items like shoes, bags, and jewelry. Like Poshmark.com, Vinted.com is a great platform for people who want to shop sustainably and find unique and one-of-a-kind pieces.

You can spend big bucks for luxury at Vestaire Collective or luck out with a more moderately priced item from an international designer. They have everything from Gucci pencil cases to Northface sweatshirts. Some things can be expedited, but they always check for quality and authenticity to ensure you get what you pay for.

Rebag is all about purses—clutches, crossbody, messenger, backpacks, and even bag charms. But they also carry accessories like belts, watches, and jewelry. We love that they have ratings on the condition of the pieces, from fair to excellent.

Want the fun of a vintage look without the possibility of smells and tears? Unique Vintage sells vintage-inspired looks from flapper to Wild West. This site is especially great for modern-sized people, as they have a terrific selection of plus-sized dresses that you would be hard-pressed to find in a true vintage piece—very affordable fun for those who seek retro style.

ThredUp offers many ways to enjoy recent and older fashion at incredibly affordable prices. They are more focused on repurposing mid-range, department store fashion brands for the ordinary person than on high-end looks. So get something from your favorite brand at a steal.
Get the look of yesteryear in the size and color you want. Simple Retro brings you the styles you wish for in newly minted glory. Victorian-style dresses and puffy sleeves abound, and you can enjoy these gems for a perfect modern price.
Vintage is sustainable!
Nowadays, vintage fashion has gained another advantage: at a time when sustainability is becoming increasingly important, it is a good idea to give existing items a new life. No new raw materials need to be used and the items do not end up in landfills. Today, buying pre-owned clothing and accessories is not only trendy, but also responsible.

The British department store Selfridges has a ReSelfridges initiative to resell high-end handbags. While they currently have a small selection, watch this space for more items to come.

Fast fashion brand Asos has a marketplace with some great, affordable vintage sellers. We love the pieces from the 60s and 70s, including a geometric silver necklace and a velvet kimono.

Trust Farfetch for pre-owned luxuries like Patek Philippe and Audemars Piguet watches, handbags, and clothing. You can find some exclusive pieces on this global website.