---
All Arts & Culture Shopping Life Fashion
---
February 17, 2022 (Last update: March 17, 2022)
Buying Shoes Online
---
With fewer dedicated brick-and-mortar shoe stores out there these days, and the ease of buying things online, now is the time to shift your shoe buying to the internet to find exactly what you need. Whether it is work boots or kitten heels you seek, you can find many options if you look around a bit online. Plus, you can find your favorite brands in your size and have them delivered right to your door. To make shoe shopping easier, many online stores offer free or reasonable exchange or return policies if the fit is an issue. Shopping in a physical shoe store, however, has its own advantages, like the personal attention and the ability to try them on before you buy. Check Yelp for shoe stores near you.
Kadaza is reader-supported. When you buy through links on our site, we may earn an affiliate commission.

---
Whether you are the type who just keeps a couple of different pairs around or fills your closet with wild styles, find out what is in fashion with some inspiration from these fashion sites. Get an idea of what looks good with the different outfits you prefer and stretch your imagination with runway looks that go beyond the everyday.
To catch up on the latest in style and fashion, look no further than these varied sources. You can get industry news and trends on Women's Wear Daily, search for new looks on Lookbook, check out Jezebel or InStyle for some trendy dishing to keep you in the fashion "know." To get yourself in the mood for shoe shopping, sample a few different blogs and see what strikes your fancy. It will help you decide what types of shoes you are pining for before hitting the shopping sites.

See what other people are doing for their kicks on Pinterest and get some ideas of what real people are wearing these days. If someone else likes it and finds it comfortable, it may be a good style or brand for you. Check out the pictures to see what works in the real world and give yourself a little time to browse. Sneaks to clogs to heels—lots of ideas.

Check out what's on the feet of those runway models or peruse street fashion. Sometimes it really helps to see the whole outfit to imagine how you will put your new shoes to use with the rest of your wardrobe. Vogue has such high-quality photography and ear-to-the-ground fashion sense that it is always a fun site to visit.

Harper's Bazaar is great for fashion photography, trends, designers, and streetwear, plus they have many articles to help you find your way around the world of shopping. It's a delightful site to browse for inspiration, and they often feature shopping guides on topics related to footwear.

To find out what they're doing across the pond, take a gander at whowhatwear. They have great shoe trend articles slightly different from the American sites. Yes, fashion is international, but those lovely British fashionistas have a flare for classic, trendy, and party shoes that give you a new perspective on how to outfit your toes.

Amazon offers a wide range of shoe brands; Zappos' shoe selection can also be found on Amazon. If you know what shoes you want it is definitely a good idea to see if they are available on Amazon. This way you can also take advantage of the benefits of Prime.
Sponsored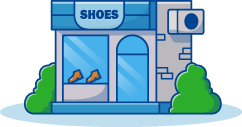 ---
Sometimes, you just need to browse the stores that carry an excellent selection of shoes and that are easily searchable. There are many options, but find our favorite overall shoe stores below.

Zappos established the first big online shoe store, and they remain one of the most prominent players. They have a massive selection of quality shoes for men, women, and children, and the best part is that you have free return shipping. So if you are not sure which size will fit you, you can order a shoe in two or three different sizes to make sure you get a perfect fit. This can be helpful since different brands' sizing can vary.

You can buy everything from cheap flip-flops to designer footwear on Amazon, and if you have Amazon Prime, many of the shoes offer free returns or "try before you buy" options. However, since many other sellers use the Amazon platform, you will find some shoes that do have shipping and return costs, but for the ability to get specialty brands from Europe and elsewhere, this is a small price to pay for convenience.

Shoes.com has a wide selection of shoes for the whole family, and it features most of the popular brands you might search for. In addition, they have some sales and discounts, and shipping over a certain dollar amount is free. There is a restocking fee, though the fee is waived if you just need to exchange for a different size.

Athletic shoes are the real specialty for FamousFootwear.com, but you can find other popular casual shoes here too. The wide selection of sought-after sneakers is the real highlight, and we especially love that they carry all the popular brands.

You can find every kind of shoe here, but the option of name brand or lesser-known budget picks makes this a great place to go for everyday shoes, athletic shoes, boots, and more. This is a terrific site for bargain prices on hot styles without the designer name.

DSW carries many great everyday shoes, often with some discount. You can find dressy and office styles, but they excel at a wide selection of athletic shoes for the whole family. For a very practical selection of shoes to please everyone, DSW is a good place to shop.


Online shopping is of course super easy and convenient, but shopping in a physical shoe store has its own advantages, like the personal attention and the ability to try them on before you buy. In this way, you also support the local stores and businesses in your area. Visit Yelp to find shoe stores near you.
---
We often think of the higher-end stores with flagships on Fifth Avenue in NYC or another major city when we think of department stores. And indeed, those stores do have some great shoes. But more budget-friendly department stores like Target and JC Penney can be great places to find functional shoes for the whole family as well. To explore all your options for department stores, see our overview of the most popular department stores. Check out a selection of our favorite department stores below.

For affordable sneakers, boots, and slippers, Walmart is a great place to shop. We especially love their wide selection of attractive and practical kid's shoes at great prices—kids can grow out of shoes so fast. But they also have nice faux leather boots and shoes for men and women.

Macy's shoe department is a thing of wonder, and when you can just order online, you can get the full range of high- and mid-range brands they offer. You will find Sketchers, Nike, Clarks, Steve Madden, Frye, and many more brands. Macy's excels at women's shoes, from pumps to comfort shoes, but you can also find a good selection for men and kids.

Shoe selections from Kohl's include good mid-price brands for the whole family. They have good hiking boots, fleece-lined boots for girls, brand-name athletic shoes, and so much more. Most prices are well under $100 and many below $50, so you can find quality on a budget at Kohl's.

At Target, you can find many shoe choices for functional, affordable pairs, and some higher quality choices too. This is a great place to shop for all types of kid's shoes, with many priced between $10-20. Shop by age range or style, and you are sure to find some great buys on this site.

Buying Baby Shoes Online
Getting shoes for little ones can be fun, and if you want some ideas, here are some great places to look.
---
---